VIDEO: Porsche Announces Winner Of Film Contest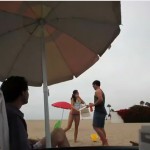 Recently Porsche invited independent filmmakers to submit short films using the "Engineered for Magic. Everyday" motif. While hundreds of future Spielbergs submitted their cinematic vision of what "My Daily Magic" means, only ten advanced to the finals. The finalists were next then invited to get an extra dose of creative spark- at the Porsche Sport Driving School in Birmingham, Ala., where their experience behind the wheel and on the track served as inspiration for their final challenge: a second film.
The winning film was "It's a magical life" by Michael Koerbel, and follows the life story of a Porsche 911 owner who meets a girl on the beach then in time lapse eventually hands the keys to his 911 to his son. The film, shown through through the view of a 911 trunk, is unique in its view point. As the grand prize, Koerbel's film will be shown online and before movies at Spotlight Cinema Networks around the country.
Porsche has also published two of the ten finalists videos to Youtube for our viewing pleasure.
Source: Youtube