Melanie Snow: A Shining Example Of Success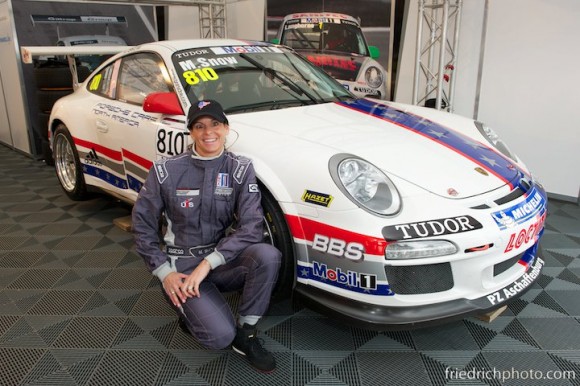 Three regulars from the IMSA GT3 Cup Challenge by Yokohama are competing in the Porsche Carrera World Cup Saturday at the Nürburgring in Germany: Melanie Snow, who usually campaigns the #56 Snow Racing Porsche 911 GT3 Cup Car, Perry Bortolotti, whose #84 SpeedMerchants-Fiorano Racing entry competes in both the US series and the Porsche GT3 Cup Challenge Canada and Muscle Milk Team CytoSport's #6, Mark Bullitt.
Snow arrived early at Nürburgring to take advantage of the touristenfahrten, or public drive-arounds of the racetrack. Behind the wheel of a rental Mercedes for several solid laps of the track, Snow noticed a strange symbol on the dashboard. "After about 4 laps a steaming coffee cup display shows up on the dash. I took the manual to the front desk of the hotel and asked them to translate. It means the car had been swerving and the driver needs a break!!" It is, after all, the Nürburgring Snow also noted the public's enthusiasm while running their personal cars on the racetrack over the weekend. "It's pretty crazy – anyone with a driver's license can run the track. We saw lots of accidents Saturday! We went through a section in pouring down rain, and then two turns later we were on a dry track, so there was a lot going on. We saw motorcyclists down after a crash, car body parts scattered on the track and even a husband and wife fighting trackside after destroying their Lotus!"
"There's been a lot of rain, but you just have to go with the flow. I've still haven't got to take a dry lap, all my laps have been in the wet. But I've got the patches on my suit, all my gear passed tech, I fit in the seat perfectly and am ready to hit the track, so I hope all goes well in the first session. "But I have to say – my cheeks hurt from smiling so much! I've had a constant smile on my face, this track is just unbelievable."
Porsche Motorsport North America President Jens Walther on Melanie Snow:  "We thought it would be ideal for Melanie Snow, a mom and race car driving instructor, to represent Porsche at this unique race. As a former IMSA GT3 Gold Cup and ALMS GTC co-champion, she is certainly qualified as a driver – and as a successful career woman and mom, she can relate to our current and potential 911 customers. Porsche Motorsports North America would also like to encourage women who are up-and-coming in the motorsports world to consider the IMSA GT3 Challenge as a stepping stone to build their career, and Melanie is certainly a shining example of success in a Porsche 911 GT3 Cup."
Qualifying for the Porsche Carrera World Cup takes place Friday at 3:25pm CEST, with the six-lap race at 11:30am CEST, just before the ADAC Zurich 24 Hours of Nürburgring.
Source: IMSA Racing
Photo: Friedrichphoto.com