2012 Cayman Interseries Race Schedule Announced
2012 Race Event Schedule Brings the Cayman Interseries Back to North America's Top Road Courses for Third Season of Competition
Full Weekend Events to Feature Sprints and Enduros on Legendary U.S. Tracks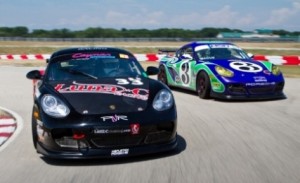 A schedule of race-weekend events that combines legendary U.S. road courses with North America's top country club circuits will highlight the 2012 Cayman Interseries race schedule, which was announced today by officials from series owners and founders Napleton Porsche of Westmont.
Celebrating its third full season of competition in 2012, the Cayman Interseries will make return visits to such iconic tracks as Daytona International Speedway (DIS), Road America, Sebring International Raceway and Road Atlanta in addition to debuting at Palm Beach International Raceway (PBIR), Virginia International Raceway (VIR) and the new Monticello Motor Club, in Monticello, New York.
The majority of the eight event weekends will feature dual sprint races as well as featured enduro events that, in most cases, will range in length from 90 minutes to two hours, and possibly longer.  Season champions will be crowned for the third-consecutive year in the both the sprint and enduro divisions.
The Cayman Interseries has also been invited to participate in Road America's annual Hawk with Brian Redman event, a popular mid-July race that has become an annual tradition at the Elkhart Lake circuit.  If added to the schedule, the Hawk will likely be a non-points, summer showcase "fun" race that would fit in well with the event's tradition of blending art-on-wheels and great competition.
"As we did prior to the 2011 season, we asked our Cayman Interseries competitors what they would like to see as far as race events this season," said Ron Barnaba, Napleton Porsche General Manager and Cayman Interseries Founder. "They once again made it perfectly clear they want a solid schedule of race events on legendary and famous U.S. road courses. We were able to achieve this again for 2012 only through the great cooperation of Ken Fengler, and HSR (Historic Sportscar Racing), and Carl Jensen, who has made the Cayman Interseries more than welcome at the growing schedule of race weekend events he has organized in recent years."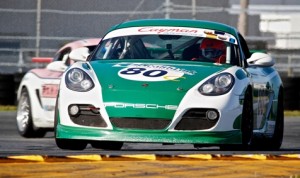 Specific schedule highlights include a night enduro at the season-opening event at Palm Beach, February 16 – 19, the July debut at the impressive Monticello facility in the greater metropolitan New York area, and a pair of races at Road Atlanta, the only venue with two events on the 2012 calendar. The first Road Atlanta race will be the 36th annual Mitty in late April that will feature dual sprints and a one-hour enduro during the busy and popular weekend.
The Cayman Interseries is open only to 2009 to 2012 Porsche Cayman S models that are raced in near-stock configuration by a competitive group of emerging and established drivers that typically own the cars they race.  A connection to Porsche's rich racing heritage is made through each Cayman's livery that has a direct and visible link to a legendary Porsche race car from the past. Each Cayman's throw-back color scheme is also matched with a corresponding Cayman chassis number, which means the history of some of the most memorable Porsche race cars will symbolically continue with an all-new chapter in the Cayman Interseries.  Napleton Porsche is the exclusive supplier and preparation shop for the Porsche Cayman S race cars used in the series. 
After running an introductory schedule of proving races in 2009, the first official Cayman Interseries racing seasons were run the last two years.  Lee Davis won both the Sprint and Enduro Championships in 2011 after also taking the Enduro division honors in 2010 in his No. 33 Cayman S that showcases the familiar red and black colors of the famous Advan Porsche 962s and Luna-C Clothing.  Jim Bacus won the 2010 Cayman Interseries Sprint Championship in his familiar No. 3 Cayman S model after the purple and green "Hippy" Martini Porsche 917LH.
 
2012 Cayman Interseries Schedule*:
 
February 16 – 19: Palm Beach Grand Prix – Palm Beach International Raceway, Jupiter, Florida
April 26 – 29:  The 36th Annual Walter Mitty Race presented by Classic Motorsports Magazine, sponsored by Mazda – Road Atlanta, Braselton, Georgia
 
May 17 – 20: Road America Spring Vintage Races – Road America, Elkhart Lake, Wisconsin
July 28 – 30: Monticello Motor Club – Monticello, New York
 
September 13 – 16: Atlanta Historic Races – Road Atlanta, Braselton, Georgia
 
October 4 – 7: VIR "Gold Cup" Historic Races – Virginia International Raceway, Danville, Virginia
 
October 25 – 28: The Sebring Historic Races – Sebring International Raceway, Sebring, Florida
 
November 8 – 11:  Daytona Continental Historic Races – Daytona International Speedway, Daytona Beach, Florida
*Schedule subject to change
Cayman Interseries at www.CaymanInterseries.org. Phone calls direct to Napleton Porsche may be made at (630) 725-0911 and email inquiries can be sent to racing@napletonmotorsports.com.
Source: Cayman Interseries