Wow! Single Center Seat 911 Surfaces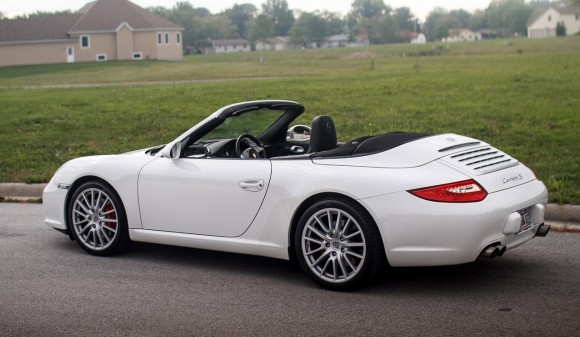 We've all seen some interesting things, however this one takes the cake!! A center-Drive 911 Cab.
Dubbed the "Centro 911",  this single/centered seat 997 Cabriolet is the brainchild of Nigel Tuckey. The inspiration for this creation was the McLaren F1, and Nigel says that it took about 300 man hours to complete the transformation from dual seats to a single centered seat design. Overall, the project took about a year to construct and prototype. In order to accomplish this, the steering column and steering rack needed to be be moved along with the modification of the chassis and dash.
The "Centro 911″ is a very unique concept and offers a very unique Porsche driving experience. According to Tuckey, a second prototype is in development which is being designed as a track car with racing seat and roll bars.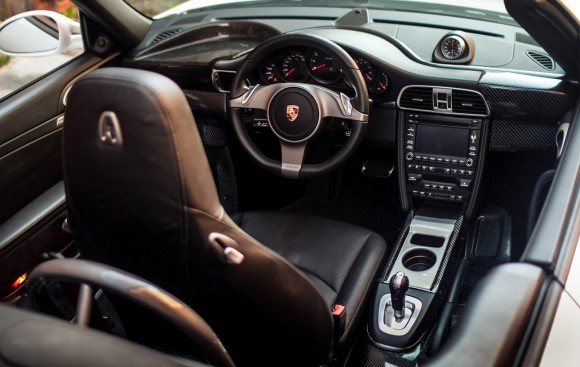 The interior of the vehicle is nearly the same as the stock 911 except for the fact that the entire setup has been shifted to the center. This required extensive modifications to the electronics and air condition system. The prototype features a PDK transmission but the concept would work with a manual transmission as well.
At the recent ALMS Petit LeMans race in Atlanta this past weekend, this single/centered seat 997 drew lots of attention. PCA National President Manny Alban speaks with the owner and creator of this wild ride.
Source: PCA – [Axis Of Oversteer]
Photos: Zach Couter