Will It Be the New Cayman or Something Else for the Los Angeles Show?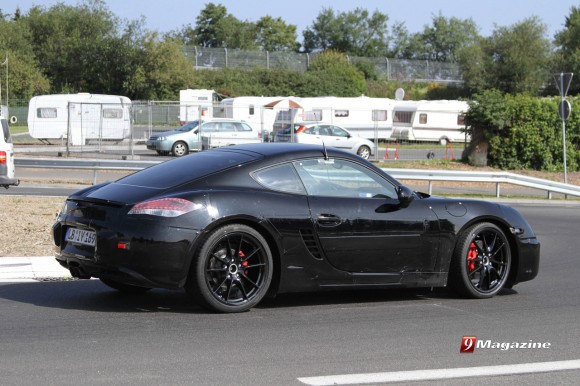 The recent introduction of the Panamera Sport Turismo concept at the Paris Auto show was a bit of a surprise for most, but back in July, 9 Magazine reported that Porsche was working on this concept and was set to announce it in Paris.
The new 2013 Porsche Boxster came out earlier this year, yet Porsche has remained fairly quiet about the Boxster's sibling, the Cayman. Reports from across the internet say that Porsche is apparently preparing to unveil its latest Cayman at this year's Los Angeles Auto Show next month.
We'll have to wait and see for sure, but it makes perfect sense given the amount of recent spy activity and testing around Stuttgart on the model. As for what we can expect, the Cayman should follow in the Boxster's path with new sheet metal, and a reduction in weight. Additionally, the Cayman, much like the Boxster, will also focus on becoming more fuel efficient  without sacrificing power. Engines, in usual fashion, should carry over from the new 981 Series Boxster, which means a 2.7L Direct Fuel Injection (DFI) and VarioCam plus boxer engine producing either 265hp or 315hp for the Cayman S.
Does Porsche have more up it's sleeve?
In Paris fashion, the element of surprise is extremely powerful. The obivious suspect is the new Cayman, given the timing. However some speculation includes a new derivative of the 991 series that could be announced at the show.
This could include the new Targa or GT3 which has also been the subject of lots of recent spy activity. Porsche has not released a Targa version with a single bar and removable panel across since the 964 Series. From the looks of the spy shot here, Porsche has returned to their roots with this iteration.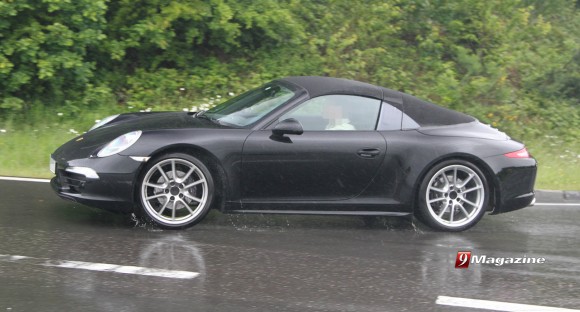 The new 991 Targa looks retro, and it will be interesting to see how the superb engineers at Porsche figured this one out. Will the panel be cloth? Will the rear portion be removable like the soft-window Targa's of the past? It's all exciting stuff.
Either way, it will be interesting as the marketing and media machine at Porsche continues to roll-on.
Photos: SB Medien/9 Magazine