Who Doesn't Love a Good Drag Race?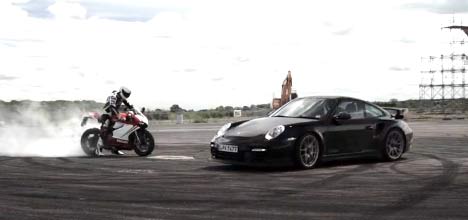 Chris Harris is the man… There, I said it.
If you love cars or practically anything with a motor (like me) then you also love a good drag race. And who doesn't?  Chris refers to them as "Internet gold," and I agree.  What I like most is the comparison of two particular vehicles side by side. How do we know how good our beloved Porsche is unless we can compare it to something else? In this video, Chris Harris puts a Porsche 911 GT2 RS against a Ducati motorcycle. Now, this is exciting! The 911 GT2 RS, which is capable of high 10′s in the quarter mile vs. the Ducati 1199 Panigale S, which has a 415 pound curb weight and features a 195 horsepower motor.
It definitely is cool to see the difference between a very fast car and a very fast bike. In the end, the bike wins with the GT2 turning in an 11.7@128mph and the bike doing a 10.6@139.5mph.  The biggest problem seems to be traction. With all the power the GT2 RS makes, its tough for Harris to hook up.
Street racing is bad, and kills people all the time. But nothing beats drag racing in a professional controlled environment. This is a great video and I think you will enjoy it! Thanks Chris!
Source: Youtube