What Is the Porsche Motorsports Young Driver Academy?
As the world's largest producer of production-based race cars, Porsche has always shown great interest in developing young driving talent around the world in order to steer the racers with the most potential towards sports car racing and Porsche teams.
For the first time in North America, Porsche held a program evaluating young motorsports talent. The new program was designed using elements of Porsche's European Junior selection program with specific details relevant for North America. The program focused on the 911 GT3 Cup car which has always been Porsche's backbone GT racecar and is used in the Porsche one make championships worldwide. All of the current Porsche factory drivers began their Porsche careers in the Porsche one make cups before their promotion.
The program, called the Porsche Motorsport North America Young Driver Academy, was held this past week at the Porsche Sport Driving School Barber Motorsports Park in Birmingham, Alabama, and featured four up-and-coming drivers.
Sean Johnston (2012 IMSA GT3 Cup Challenge champion), Cooper MacNeil (2012 ALMS GT Challenge champion), Kyle Marcelli (2012 IMSA GT3 Cup Canada – most wins), and Spencer Pigot (2012 USF2000 series – most wins) were chosen to participate based on their exceptional 2012 racing seasons. Johnston, MacNeil and Marcelli all excelled in the Porsche 911 GT3 Cup, Porsche's evergreen race car and the most-successful production-based race car in history. The fourth driver, Spencer Pigot, was chosen as an American open-wheel standout, recommended by International Motor Sports Association (IMSA), Porsche's partner in the North American one make cups. All the drivers are under 25 years old.
"This was a great way for Porsche to find and evaluate young talent as well as to show appreciation for the drivers' hard work, dedication and success in 2012," said Jens Walther, president of Porsche Motorsport North America, Inc.
"The two-day program, which included classroom testing and instruction, personality evaluation, media training and multiple driving activities, not only gave us a good insight into the potential for these drivers, but was designed to help make them more professional and provide personalized guidance for their up-and-coming sports car careers," said Walther.
Walther emphasized that, while the drivers were evaluated on all aspects of the program, there were no winners or losers as the focus was on sharing the experience and giving professional advice.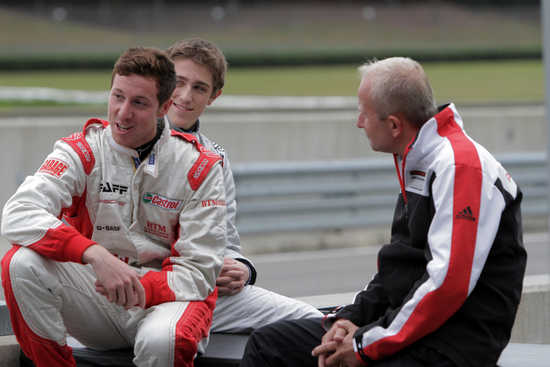 The Porsche Motorsport North America Young Driver Academy was made possible by program partners Michelin, the International Motor Sports Association (IMSA), and host Porsche Sport Driving School (PSDS). The Porsche Sport Driving School features 911 GT3 Cup race cars as part of its advanced driving curriculum.
Participating driving instructors from Porsche included America's most decorated endurance champion Hurley Haywood (multiple Camel GT, Le Mans, Daytona and Sebring titles), U.S.' only Porsche factory driver Patrick Long (multiple American Le Mans Series, Le Mans and Daytona winner), Brumos Racing and Rolex GRAND-AM GT champion Andrew Davis, plus Porsche Sport Diving School instructor Jeff Purner and driver-turned-broadcaster Justin Bell, who served as a media instructor for the group
Source: Porsche