Walter Rohrl auf dem Nurburgring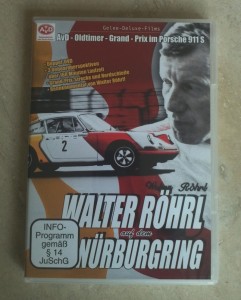 The other day, this video showed up in our mailbox. What a surprise! I couldn't wait to open it up and sit down to watch it! It's a double DVD of two legendary names in motorsport history; Walter Rohrl and the Nurburgring! Two-time World Rally Champion Walter Rohrl and one of the most exciting race circuits in the world.
The movie provides 3 onboard point of views and more than 160 minutes of runtime of Rohrl tearing up the Nurburgring in a 911S during the Oldtimer Grand Prix.
The annually held Oldtimer Grand Prix at the Nurburgring has evolved over the years into one of the leading classic car events in Europe.
In direct comparison with far more powerful cars and in ever changing weather conditions, he drives his nearly 50 year old Porsche 911 S with pinpoint precision through "Green Hell."
On the second DVD, Walter Rohrl comments the best laps and the most exciting situations and recalls special moments of his career as well as legendary experiences on his favorite race track.
Head over to Galee-Deluxe-Films GBR website for more information and some sample clips from the DVD.
It's always a fun to get cool things like this in the mail and this is one of the movies you must add to your collection! Thanks Galee-Deluxe Films!