Vorsteiner Announces V-GT Tuning Program Based On 991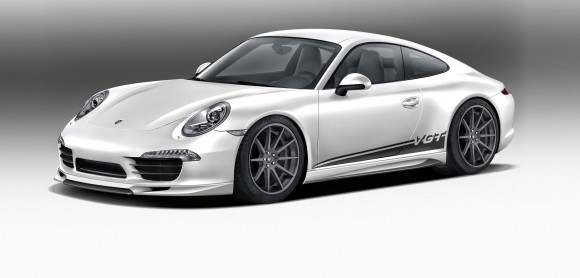 Vorsteiner has announced its tuning program for the new Porsche Carrera and Carrera S.
The new V-GT program for the Porsche 991 features a front add-on spoiler lip, a replaceable air splitter, a  re-sculpted bonnet, a set of sporty side skirts, rear diffuser and ducktail wing spoiler. All of the add-on parts are made of carbon fiber. Vorsteiner also proposes a lightweight carbon fiber roof panel replacement to shed a few more pounds off the car's weight.
The kit gives the new 991 series Porsche Carrera a subtle and elegant look yet maintains the aggressive stance and flowing design of the new body style.  
The parts available for the V-GT:
• Front Add-On Spoiler with integrated brake duct collectors Carbon Fiber Pre-Preg Autoclave
• Front GT Replaceable Center Splitter for additional downforce in Optical Carbon Fiber Pre-Preg Autoclave
• Side Skirt Panels with Integrated Carbon Fiber Blade Extension Element
• Lightweight re-sculpted front bonnet in Carbon Fiber Pre-Preg Autoclave
• Rear Add-On Diffuser with Integrated Aero Fins Carbon Fiber Pre-Preg Autoclave
• Rear Add-On Ducktail Wing Spoiler Element Carbon Fiber Pre-Preg Autoclave
• Lightweight Replacement Carbon Fiber Roof Panel
• 20 inch | 21 inch Forged Aluminum Wheel Options
• Stainless & Titanium Sport Exhaust Systems (Valve Control)
Source: Vorsteiner