VIDEO: Testing the Porsche 935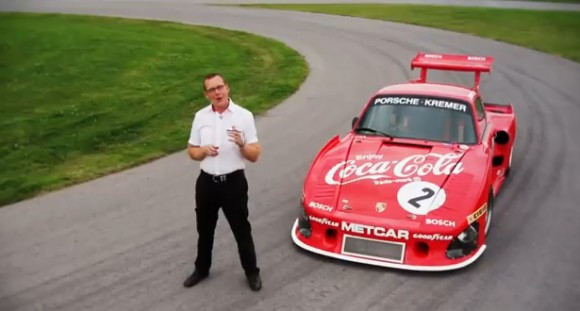 Nimble and Poised. I have thousands of words available to me through the glory of the english language, and I would not have chosen these. These are not words normally associated with the piercingly gorgeous, strikingly simple, and insanely quick legendary 935. See, I didn't use "nimble" or "poised" there. The general consensus is that it takes a certain brutal finesse to drive a 935 quickly. The turbochargers assist in shoving you forward, the sounds set free from the flat-six and straight cut gearbox seeming to run alongside.
Gordon Robertson, chief driving consultant for the Silverstone based Porsche Experience Center, however, begs to differ. As I sit watching the video on my monitors at home, I cannot help but look slightly to my right at a scale model on the shelf. Be it coincidence or fate, I have a 1:43 Quartzo scale model of this Coca-Cola Kremer not 2 feet from where I sit. After the video crescendos into a cacophony of exhaust
noise, I peer at the details that Kremer crafted and think of what it
took to make them.
While the car in the video is also a "replica", it is a 1:1 scale that is actually drivable. You would be hard pressed to determine that it is not an original, and it certainly looks and sounds the bit. Even without the racing provenance, I would be jumping up and down like a small child in a toy store wanting to touch every little switch, button, and boost knob. Porsche, if you're listening, can I please have a go in
your 935? Pretty please?
SEE THE VIDEO HERE:

Source: youtube