VIDEO: RUF RGT8 & CTR3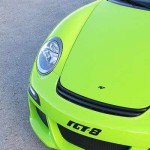 Listen to the sound of a Porsche 911 with an 8 Cyl. powerplant
Here is a great new video from our friends over at RUF which showcases the behind the scenes design and development of the RUF RGT8 and the RUF CTR3.
Listen to the sounds that an eight cylinder 911 produces, and follow along as they cram all that metal into the rear of our beloved 911.
We have to give RUF  lots of credit. Unlike other Porsche tuners, they have designed and developed an entirely new powerplant for the 911 which goes above and beyond the flat-six used since the introduction of the Porsche 911 more than 40 years ago.
Then check out the unique RUF CTR3 which is basically a completely new vehicle from the mind of Alois Ruf sporting Porsche parts – Sound familiar?   
 
Source: RUF / Youtube