VIDEO: New Boxster Caught In Stuttgart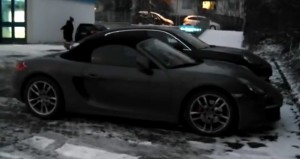 The brand new Porsche Boxter 2012 / 2013 – 981 series – filmed at gas station in a district of Stuttgart (Germany).  
The newly annouced Porsche Boxster was recently caught on film parked in Stuttgart. The video gives us our first glimpse of the new Boxster in a real-world environment.  Parked next to a Panamera, we can get reference as to the size of the new 981.
The new Boxster's base model delivers 265 hp from a 2.7 liter displacement – ten hp more than its larger displacement predecessor. The Boxster S now delivers 315 hp, which is five hp more than before. Both models feature a manual six-speed gearbox as standard with the seven-speed Porsche Doppelkupplungsgetriebe (PDK) available as an option. Both sports cars achieve their best fuel consumption and acceleration performance with the PDK. The Porsche Boxster's fuel consumption with PDK is 7.7 l/100 km and 8.0 l/100 km for the Boxster S. With gear changes without interruption to the power flow, the Boxster sprints from zero to 100 km/h in 5.7 seconds, the Boxster S in 5.0 seconds.
Source: Toldi / Youtube