VIDEO: 918 Spyder Spotted At The Ring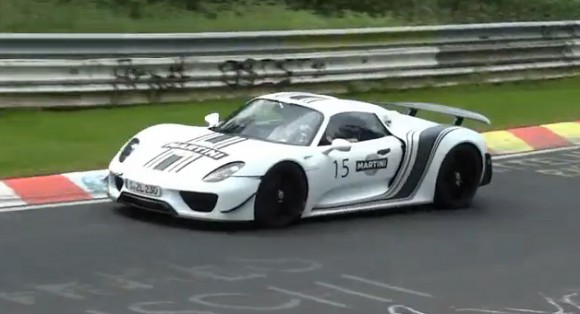 They say a picture is worth a thousand words. So what is a video worth? Well, when it comes to automobile spy footage – its probably like a million words! Today, spy photos of the new Porsche 918 Spyder prototype surfaced as it tested at the Nurburgring clad in Martini livery.
In this video, you can see and hear the new 918 as it ripps past the cameraman. The video is only a few seconds long, but is pure bliss for all Porsche enthusiasts!
The 918 Spyder is designed as a plug-in hybrid vehicle combining a high-performance combustion engine with cutting-edge electric motors for extraordinary performance. It is estimated that the 918 Spyder will cost $845,000 and produce 770 hp and 552 lb-ft of torque when it arrives some time next year.
Source: Youtube