URBAN OUTLAW To Be Distributed & Released Worldwide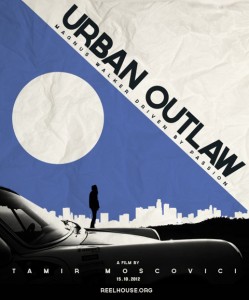 I think by now that most in the Porsche community have seen the Urban Outlaw trailer and have been waiting anxiously to see the film. Well an official announcement has made.
Since the trailer was released in late May of 2012 it obtained over a 1.2 million click throughs. The initial intent was to submit the film to festivals. Since submitting the film to festivals and competitions the film has won a prestigious Award of Merit from the Best Shorts Competition, for short documentary. The film is schedule to debut in London at the Raindance Film Festival on Sept. 28 2012, and will play in Atlanta and Edmonton shortly there after.
While the film continues to navigate the festival circuit, Tamir & Magnus have decided that limiting the viewership to select cities, with limited seating, would be the wrong choice for the film. Following  Raindance, the film will be made available online.
"The film, a passion project, would never have been funded in the traditional studio system.  Through word of mouth, enthusiasts, bloggers and journalist, we have built a global fan base, our fans are passionate, and we don't want to make them wait any longer."  – Tamir Moscovici
SUPPLEMENTAL, in association with MOS MEDIA, INDUSTRY FILMS & MAGNUSWALKER911.COM is proud to announce the release of URBAN OUTLAW. URBAN OUTLAW will be distributed & released worldwide online via Reelhouse.org.
                             RELEASE DATE: Oct 15 2012   -    URL: reelhouse.org/mos/urbanoutlaw
Tamir & Magnus opted to go with Reelhouse.org, a new platform for film audiences. Knowing that they were going to release the film globally they wanted a platform that could create a theatrical experience that was intimate. Reelhouse is more then a micro site, or faceless link for audiences to view.
Through Reelhouse.org viewers can reach out to Magnus Walker and to the filmmaker.  In the spirit of Louis C.K., and the filmmakers behind Press Pause Play, this is a new age in filmmaking, let's cut out the distributors, studios and marketers.  Let good film connect with an audience, and let that audience connect with the filmmakers.  If the audience likes the film, they can support the filmmakers.  In short, let's continue down the path of accessible art for the masses.
Source: Urban Outlaw / Magnuswalker911.com