Up Close and Personal With the 918 Spyder Concept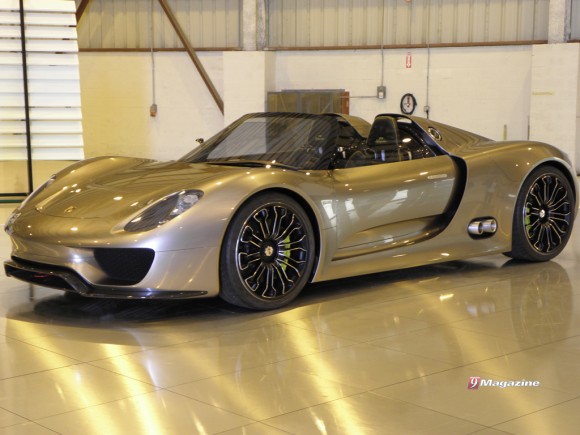 High-tech interior provides glimpse into the future
In an exlusive showing of the Porsche 918 Spyder Concept in Miami, FL, on Aug. 19, 2010,  9 Magazine has some close up and personal photos of the 918 Spyder Concept's interior. The cockpit offers a glimpse at the potential interior architecture of future Porsche super sports cars. The three free-standing circular dials for road speed (left), engine speed (middle) and energy management (right) would appear to come directly from a racing car in the '60s, bearing out that unique philosophy of driver orientation so characteristic of Porsche.
The center console rises up towards the front in the 918 Spyder and houses a touch screen for intuitive control of the car's functions, serving to reduce the number of visible controls and maintain the principle of direct operation. The control units relevant to the driver are mainly concentrated on the three-spoke multifunction sports steering wheel, while the variable driving modes are supplemented by a switch enabling the driver to call up various drive programs and serving as the push-to-pass button for E-boosting. Instrument illumination, finally, varies from green for the consumption-oriented running modes to red for the performance-oriented driving programs.
The Porsche 918 Spyder concept also comes with further innovative functions such as the Range Manager. After being activated in the Center Display, the Range Manager uses the map in the navigation system to present the remaining range the car is able to cover, naturally allowing the driver to influence that range through the appropriate choice of power and performance. In cities with environmental alert areas the Range Manager also states whether the driver is able to reach a certain destination on electric power alone.
Applying this information and using further info on the availability and location of special energy filling stations, the driver is then able to choose his personal style of driving as well as the right battery charge and filling strategy. Offering a unique combination of extremely low fuel consumption, supreme performance and long electric range, the Porsche 918 Spyder concept represents an essential milestone in Porsche's strategy on the way to genuine electric-mobility.
It will be interesting to see how much of the 918′s concept developments are implemented in the production vehicle.
[nggallery id=1]
Photos: Carlos Amador