TruSpeed Solid at Mosport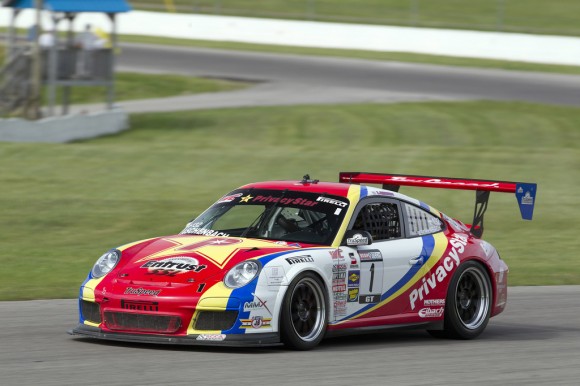 TruSpeed Motorsport started its doubleheader weekend of Pirelli World Challenge racing on the back foot, as drivers Lawson Aschenbach and Brett Sandberg both were not in attendance at the track for Friday testing and practice due to Grand-Am racing commitments in Wisconsin. Their planned absence left the bulk of car setup work for all three cars to rookie Madison Snow, who made his 4th World Challenge start of the season. Snow delivered results well beyond his years, helping the team with the complicated task of setup – a task normally performed by veteran drivers.
In qualifying for Saturday's race one at Mosport, Aschenbach drove the #1 PrivacyStar / Entrust Porsche 911 GT3 Cup to 6th on the grid, Sandberg drove the #47 Monticello Motor Club / TruSpeed car to 10th, and Snow drove the #46 ZORO Tools car to 11th.
Team Manager Tyler Tadevic said, "We were behind some of our competitors in qualifying and the race on Saturday only because we were missing two of our drivers for testing and practice on Friday, and Mosport is a tough place to set a Porsche up for. Madison did a great job, but we needed to have the other guys there to help him along. Saturday's race was pretty straightforward, and we were able to get Lawson home in 4th, Brett in 6th and Madison in 8th, meaning they all improved their position. That was great news for the team, but unfortunately O'Connell in the Cadillac finished ahead of Lawson in that race and extended his championship lead. All three cars were suffering from some setup issues during the race, pushing here and lacking grip there, but our guys did commendably well under the circumstances."
The team regrouped Saturday night and found several improvements to make to the cars ahead of Sunday's qualifying, which would see Lawson qualify 5th, Brett 7th, and Madison 10th.
Tadevic continued, "Sunday's race was good to us. The GT field got away cleanly at the start, and Lawson was able to jump to 4th with a nice pass on the first lap, then there was a caution period for an accident in the GTS field. After the restart, Lawson hounded Alex Figge for about 5 laps before he made a move stick, working up to 3rd. He was circulating behind Johnny O'Connell's Cadillac for several laps, not really making an impression on him but not losing ground either, when the Cadillac had a tire failure. If you'd told me before the weekend we would have gained points in the championship relative to the leader, I'd have been thrilled.""Madison did a great job in Sunday's race, clicking off laps and gaining experience for his race back here next month in the IMSA GT3 Challenge series – his main championship. I think he'll have a good idea of what to do when he's back here next, and it's been a true pleasure to work with him and his family. The kid's the real deal. It was great to see the ZORO Tools car so well settled in, and we're excited about Madison's future. We're happy to have had the ZORO Tools folks onboard this weekend."
Tadevic said, "Brett was good enough to jump onboard with the team a race early, and I don't think the results show his ability well. He was lapping only .3 to .4 of a second off of Lawson all weekend, and he'll get quicker with more time in the car. He's a very intelligent kid, and we're excited to run him at Mid-Ohio and Sears Point later this season. We're looking to make up some lost ground at the last two races."Lastly, while we're not looking too likely to retain our driver's championship this season, we've done ourselves a favor in the manufacturer's championship for Porsche. We're within striking distance with three races left to go, and with some more hard work, we might well overtake Cadillac yet. It'd be the coup de grâce to beat GM and Cadillac to that goal two years in a row, so that's our primary target now."
The Pirelli World Challenge Series now enters its summer break, taking the month of July off. The series will resume with rounds 10 and 11 at Mid-Ohio on August 3, 2012.
Source: Truspeed Motorsports