TruSpeed Motorsports Sweeps Championships at Road Atlanta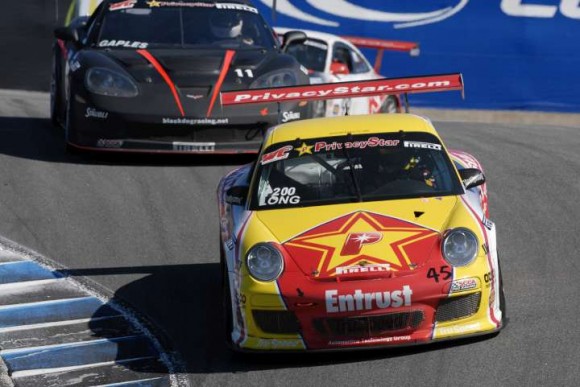 TruSpeed Motorsports polished off its clean sweep of the Pirelli World Challenge Championships today at Road Atlanta, on the backs of Patrick Long and Tomy Drissi's 5th and 9th place finishes, respectively. In doing so, the team added hardware alongside the GT driver's championship that Long captured at Laguna Seca, clinching the team championship and contributing to Porsche's manufacturer title. 
Long, driving the #45 Privacy Star / Entrust Porsche, silenced any argument about the points tally ahead of the season finale with a solid run to 5th place today, capping a season in which he either finished 1st or 2nd six times out of 11 races, despite missing a race due to a schedule conflict. Drissi, driving the #47 The Sitter / TruSpeed Porsche, rebounded from a scary impact at Laguna Seca two weeks ago to claim 9th place, sealing an emphatic end to the season for TruSpeed.
Tyler Tadevic, team manager said, "After a rather uneventful race today, I'm very proud to say 'Job well done,' to our whole team and drivers. It's been a dream season for TruSpeed, and we've accomplished every last goal we set for ourselves before St. Petersburg at the beginning of the season. As a team, we delivered a season in which we didn't suffer a single mechanical failure, which is a huge testament to Porsche and our crew both. With the exception of Tomy's off at Laguna Seca, all the cars we entered in the Pirelli World Challenge this year finished every lap of every race."
He continued, "Patrick, from day one, has been a consummate professional and a great leader for the team. We've grown as an organization with his input and involvement, and it's been fantastic to see our team's growth and accrual of experience all around. Rob Morgan's commitment as an owner and technical skill as a driver have been a huge boon to the team as well, and while he joined us relatively late in the season, we're thrilled to have had Tomy in the team. Now, it's time for celebration, and pretty shortly here, we'll be back in the shop laying plans for a title defense in 2012."
TruSpeed Motorsports extends a huge thank-you to its sponsors PrivacyStar, Entrust, NADA Guide and Merrill Lynch. 
Source: Truspeed Motorsports