TruSpeed Motorsports Ready for Inaugural 25 Hours of Thunderhill Run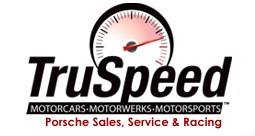 TruSpeed Motorsports, fresh off dual championships in the Pirelli World Challenge Series and Pirelli Driver's Cup, has entered the NASA 25 Hours of Thunderhill for the first time. TruSpeed will make the trek to California's northern Central Valley to take on NASA's annual winter endurance race with four of its team regulars: Tom Haacker, Gregg Hodges, Sloan Urry and D. Bryce Miller. The team will race the #29 TruSpeed/G22 Racing Porsche 911 GT3 Cup, and TruSpeed team owner Rob Morgan will travel to the racetrack to act as reserve driver.
Among the challenges at Thunderhill are the cold, frequent periods of dense fog and particularly the dark nature of the track. Since the track has no auxiliary lighting and the event is run very close to the winter solstice, teams have traditionally had to augment their race vehicles' lighting systems. For its first run at Thunderhill, TruSpeed turned to Mesa, Arizona's Rigid Industries, who supplied the team with adapted offroad lights, which the team tested successfully at Buttonwillow just prior to Thanksgiving.
Team Manager Tyler Tadevic said, "We're really looking forward to running our first long endurance race as a team, and we're doing it in preparation for a planned series of entries in NASA and Porsche Owner's Club endurance races in 2012. We've got four drivers who we know really well, and as a group, our goal is to see the checkered flag on Sunday. Tom Haacker and Gregg Hodges are strong customers of ours who are making it all possible, and they're using both this race and their planned 2012 endurance races in preparation for an entry in the 2013 Rolex 24 At Daytona. As a group, they've been coached by Bill Follmer, so they're gaining experience and skill behind the wheel."He continued, "Our crew has been preparing at our shop for four weeks for this race, and I think we're in good shape. The lack of our drivers' familiarity with events of this duration is probably our biggest challenge, but we've got a proven platform in the Porsche GT3 Cup Car, and I think if we stay out of trouble and just circulate drivers, tires and fuel, we'll be in with a shot come the end of the race. Thunderhill is a challenging environment with the track layout and particularly the weather, but we're confident heading into the event."
Source: TruSpeed Motorsports