TruSpeed Headed for Street Fight in the Motor City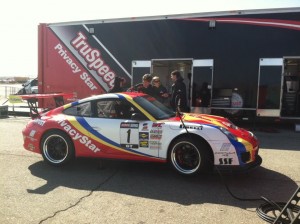 Detroit makes the world go round, so goes the saying. This coming weekend, TruSpeed Motorsport will take the fight to the Motor City Iron of the hometown Cadillac CTS-Vs and Corvettes in the Pirelli World Challenge Series on the streets of picturesque Belle Isle, Michigan. A longtime stop on the IndyCar and CART circuits through the 1990s, racing resumed on the island in the middle of the Detroit River in 2007 and 2008 before the broader economy kiboshed plans to continue annual events there. 2012 marks the return of professional auto racing to the street circuit, and competitors are excited.
TruSpeed Motorsport, coming off a solid result at Laguna Seca which saw Lawson Aschenbach race from the back of the grid to claim a solid 4th place, will field three Porsches in Detroit: the #1 PrivacyStar / Entrust car for Lawson Aschenbach, the #47 Abraham Lincoln Vampire Hunter car for Tomy Drissi and in a surprise development, the #46 Zoro Tools car for young phenom Madison Snow, age 16. TruSpeed regular Justin Marks will be forced to miss the Detroit round of the championship due to business commitments surrounding the opening of his new world-class karting facility near Charlotte, NC, Mooresville Motorplex.
Snow has been grabbing the attention of the sportscar racing world of late with his performances behind the wheel, and returns to TruSpeed for his second career World Challenge race. Aschenbach enters the Detroit round fourth in the championship, but with a solid history of results in races this year, not to mention two previous World Challenge championships to his name.
TruSpeed is proud to announce a new corporate partner for the team, Zoro Tools, of Mundelein, IL. Team Manager Tyler Tadevic said, "We're thrilled to have Zoro Tools on board, and as this is their first foray into motorsports marketing, our intention is to give them a great result on track and generate as much exposure as we can off of it. A big thanks goes out to Gloria and Seth from Zoro Tools for the willingness to give this a shot."
He continued, "Getting back to Detroit is something we're all excited about. Back in the 1990s, Belle Isle was not a terribly pleasant place to race, but Roger Penske has come in and done his thing, turning it into a sparkling facility, as he seems to have a habit of doing. The good news for the team is that we think our Porsches will suit the nature of the track really well – the layout of Porsches and the weight distribution seems to really work well on street circuits. The bad news is that we're racing in the shadow of General Motors' headquarters, which means our competition in the Corvettes and Cadillacs will be extra motivated from the drop of the green flag in the first practice session. We're not  the types to shy away from a fight, and we'll give it our all in the Motor City!"
TruSpeed Motorsport will race twice this weekend, once on Saturday and once on Sunday. For the latest results and live timing and scoring, visit http://world-challenge.com/
Source: Truspeed Motorsport