TRG Rolls Out Strong for the 50th Rolex 24 at Daytona

The Racer's Group (TRG) arrived in Daytona five cars strong, 24 drivers deep, and prepared to battle 45 of the best GT cars in the world for 24 hours straight. The team returns fresh off of two very strong tests, looking for its fifth win at this historic running of one of the world's most famous races, the 50th Anniversary of the Rolex 24 at Daytona.
Having won this event in 2002, 2003 (overall), 2009 and 2011, TRG is no stranger to the top step of the Daytona podium. Returning as defending champions, places a huge target on TRG's back.
The team shares its successes with its manufacturer of choice, Porsche, who has elevated itself to the winningest manufacturer in the 49-year history of the event. Racing five identically prepared 2011 and 2012 Porsche 911 GT3 Cup cars, TRG feels more than adequately equipped to do battle come the drop of the green flag on Saturday afternoon.
"We are ready!" exclaims TRG team owner Kevin Buckler. "In every sense of the word- we are ready. The whole team has come together, day-after-day, long-night-after-long-night. Countless hours of work on the cars, on the computers, livery, pit equipment with the drivers and all of the folks on the business, marketing and PR end of TRG. They say that there's no such thing as luck in racing. I believe you make your own luck. We certainly can't predict the future, but we can go in confident knowing that we have done absolutely everything in our power to prepare for this race… our signature event, The Rolex 24. We are ready to defend our 2011 victory!"
TRG's lineup of drivers will include defending champions, current veterans, Porsche Factory drivers and more. According to team owner Kevin Buckler, this is the strongest five-car team TRG has ever fielded.
In early December, the team put all five Porsche 911 GT3 Cup cars through the tests on the high banks of the Daytona International Speedway in preparation for the Rolex 24, leading nearly all sessions in the GT category. TRG returned January 6-8th for The Roar Before the 24, where they backed up their initial findings and again led nearly all of the sessions.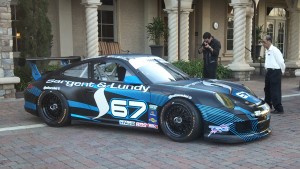 The 2011 GT champions, No. 67 Sargent & Lundy/TRG Porsche 911 GT3 Cup, will be driven by TRG regulars Spencer Pumpelly and Steven Bertheau alongside Porsche factory driver Wolf Henzler, Porsche Mobil 1 Supercup Champion Jeroen Bleekemolen and prototype veteran Marc Goossens, who recently celebrated four wins in the 2011 Belgian GT Championship. The No. 67 was at the top of the charts in both of the official test weekends and will certainly be in contention in the Rolex 24 with this driver lineup.
Pumpelly and Bertheau who each started 2011 with the Daytona 24 victory, had career seasons in 2011. Pumpelly celebrated three ALMS wins (among seven podiums), two GRAND-AM wins and a trip to Le Mans for the 24-hour European race. Bertheau had a break-out GRAND-AM season with two wins in the GT Category in his inaugural season.
The TRG No. 64 car will be driven by Formula One veteran, Eliseo Salazar, who will be sharing driving duties with TRG regular and Venezuelan touring car champion, Emilio Di Guida and his Venezualean co-driver Gaetano Ardagna. They will partner with Salazar's fellow Chilean racer Eduardo Costabal and Columbian native Santiago Orjuela, making the No. 64 an all South American entry. Salazar looks to make history, by being the only driver to compete in Monoco F1, Dakar Rally, The Indianapolis 500, Le Mans and The Rolex 24 at Daytona.
The TRG No. 65 will be piloted by experienced racer and owner of one of the Northeast's largest tuning shops, Spencer Cox; Mike Hedlund, who recently earned his first GT3 Challenge win and showed his strength in the early tests; Jack McCarthy, a PCA standout who's enjoying a bit of family rivalry with his cousin who is in one of the team competitors' rides; Jim Michaelian, sports car veteran and President of the Long Beach Grand Prix, who just competed in the 24 hours of Nurburgring finishing 36th of 160 teams; and Dr Joe Castellano, returning to TRG and a veteran of over 20 major endurance races and just finished running the 24 Hours at Dubai in preparation. All of these drivers have been working extremely hard in the off season preparing for this years event.
TRG's famed No. 66 Porsche will be driven by Viper Cup Champion Ben Keating, Dominik Farnbacher, Allan Simonsen and Porsche factory driver Patrick Pilet. Farnbacher and Keating shared the pole-sitting GT car at Daytona last season, and anticipate another strong attack. Keating, who recently announced plans to run the GRAND-AM Endurance Championship, has been very strong in the official test sessions. He earned the 2011 Dodge Viper Cup Championship and had an impressive drive at the 2011 Petit Le Mans with TRG.
Keating will run not one, but two entries in this year's race, sharing the seat of the No. 68 911 with 2011 GT3 Challenge Series standouts Carlos Gomez and Chris Cumming, Kevin Estre, 2011 Rookie Champion of the Porsche Mobil 1 Supercup, and one of Ireland's top International racing drivers, Damien Faulkner. The No. 68 showed that it certainly has the speed to compete in this years endurance race. This group will be one to watch to contend for the podium at this year's historic event.
TRG's full driver lineup:
Car 64: Gaetano Ardagna, Eduardo Costabal, Emilio Di Guida, Santiago Orjuela, Eliseo Salazar
Car 65: Dr Joe Castellano, Spencer Cox, Mike Hedlund, Jack McCarthy, Jim Michaelian
Car 66: Dominik Farnbacher, Ben Keating, Patrick Pilet, Allan Simonson
Car 67: Steven Bertheau, Jeroen Bleekemolen, Marc Goosens, Wolf Henzler, Spencer Pumpelly
Car 68: Chris Cumming, Kevin Estre, Damien Faulkner, Carlos Gomez, Ben Keating
Source: TRG