TRG Returns to the Baltimore Grand Prix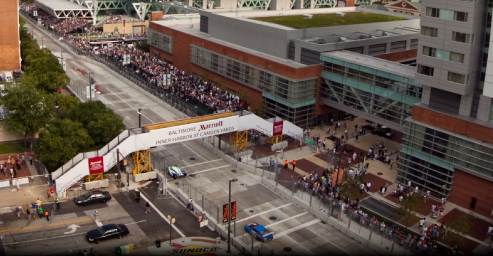 The Baltimore Grand Prix is just around the corner, and TRG will arrive in full force with a four-driver, two-car effort just two weeks after a suspenseful weekend at Road America. Much like last year, the Baltimore event will again feature a classic street course race downtown around the Inner Harbor.
The TRG team lineup starts with Marc Bunting and Spencer Pumpelly in the No. 66 Porsche 911 GT3 Cup car, followed by Al Carter and Patrick Pilet in the No. 68 Porsche supported by the B+ Foundation and SceneTap. Each brings a unique array of talent, having driven with TRG in the past, and will no doubt challenge their teammates as TRG battles against North America's best sports car drivers and teams.
Pumpelly, who sits fourth in the drivers championship, has expressed much enthusiasm as the event approaches. "Marc and I have driving styles that complement the other. Given our track record in previous races, we have a good chance for a podium, but anything can happen at this event."
The 2006 Rolex Grand-Am Series GT co-champion and Bob Akin Award winner, Baltimore native Bunting is no stranger to challenging races. He helped lead the charge that earned TRG the "Triple Crown" Rolex series Championships in 2006 winning the drivers, team and manufacturers championships. He drove with TRG in three races during the 2011 season, including Baltimore and Mosport where he finished second. Earlier this year at the 12 Hours of Sebring, he drove with Pumpelly and Emilio DiGuida, finishing fourth.
Bunting's car, dubbed Team Baltimore Racing, is support by many local companies and charities in the Baltimore area, including Boys Club of America, University of Maryland's Children's Hospital, Goetze Candies and the Baltimore Marriott Inner Harbor Hotel.
"It's always great to have a hometown crowd behind you," says Bunting. "Last year's inaugural race here in Baltimore was an amazing event. This year, I'm hoping that Spencer and I can add an amazing finish and result."
Carter is making his second American Le Mans Series start at Baltimore with TRG. His first race at Mid Ohio last month yielded an amazing result for Carter and TRG with the 66 car finishing second but being awarded the first place points after the winning car was penalized for not meeting minimum driver time standards. Carter is a two-time Skip Barber Master's champion with nine career wins. He has been a top competitor since 2010 in Grand-Am's Continental Tire Series.
Paired with Carter is French superstar Patrick Pilet. Named a Porsche factory driver in 2008, Pilet is competing in numerous racing series around the world. The endurance driver has captured wins and podiums at the 24 Hours of Daytona, Le Mans, Spa and Dubai and drove earlier this year with TRG at the Rolex 24. Referencing an encouraging track record for both drivers, the possibility for a two-car podium certainly exists.
"I'm excited to run the Baltimore GP with TRG," explains Carter. "They have quality cars and a quality team. In a challenging street circuit like Baltimore, we'll have all the resources we need to make this a successful effort. And I'm really looking forward to diving with Patrick. He is one of Porsche's most talented young drivers. I think we will make a good team."
"This is going to be an awesome event," stated TRG team owner Kevin Buckler. "We were all so impressed with the effort that everyone put forth last year to pull this race off. This year, I know they are even more ready…..and so are we. With this venue and this driver line-up and our all-star crew and team, this is going to be one of the most exciting events we have done all year. We are going there with nothing but winning in our sights and I can't wait to get on the pit box."
The Baltimore Sports Car Challenge presented by SRT is scheduled for 4:30 p.m. ET on Saturday, Sept. 1 on the temporary street circuit in Baltimore's Inner Harbor. Full live coverage starts Saturday at 4:15 p.m. on ESPN3. The Series' website offers additional content such as live in-car cameras, and timing and scoring for all users around the world. Viewers outside the U.S. can watch the Baltimore round and all ALMS races live on www.ALMS.com. ABC's re-broadcast begins at noon ET on Sunday Sept. 2.
Source: TRG