Topcar Announces New Panamera "Stingray GTR"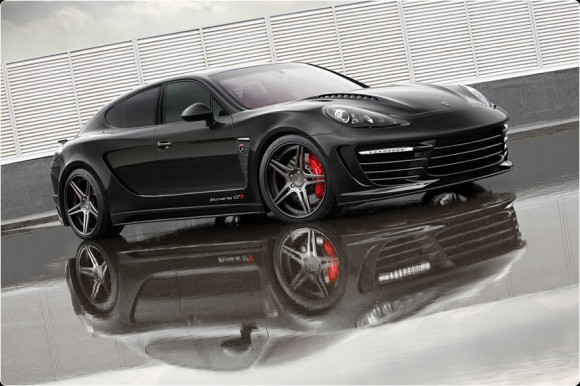 Topcar presents a new tuning program for the Porsche Panamera, called the "Stingray GTR". The second version of the "Stingray" for Topcar presents a more aggressive and "charismatic" car. The Panamera "Stingray GTR" is a limited edition, which includes only 25 cars. Each car in the range will have its own special features and be unique.
Topcar decided to create an entirely new and "all-sufficient "car based on the Porsche Panamera. This time they out-stepped a simple design improvement of the factory model. Most of body elements have been re-created. It includes front and rear bumpers, hood, front and rear fender extenders, front and rear doors, side skirts. It is essential to highlight that the car has become much wider. Extended wings, advanced air vents, sharp outlines of blade front bumper and hood, strongly-marked rear diffuser and spoiler on the boot lid, all this created absolutely new aggressive style. Rear doors and wings are visually combined. Now, to open the back door, you need to press a small button and the door opens automatically. All new bodywork components made from carbon fiber and Kevlar by company Topcar itself.
The tuning program involves both design and a variety of other technical improvements. The programs to higher engine performance are available for Turbo version cars. A new sport air filter, intake manifold, motronik and valved exhaust system increases car power to 600 hp. Moreover the power might be increased to 700 hp in case sophisticated modification of the engine. 
The Topcar "Stingray GTR" also offers numerous upgrades for the interior offering its clients improving of car interiors according to individual design project and customer's particular preferences.
Currently Topcar has received four orders for the Porsche Panamera Stingray GTR. More information about this car and other Topcar creations can be found at http://www.top-car.ru
Source: Topcar