Team Hot Wheels & Jack Baldwin Close Out Pirelli World Challenge Mosport Weekend with Second-Place Finish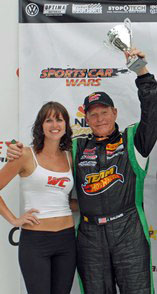 Jack Baldwin and Team Hot Wheels™ raced to their fourth top-three podium result in the last five Pirelli World Challenge event weekends Sunday at Mosport Park where a second-place GTS-class finish kept Baldwin and the No. 68 Hot Wheels®/GTSport Racing/Napleton Porsche Cayman S in the thick of the 2012 championship battle.
"Preparation, determination and focus is what it has been all about for everyone at GTSport Racing all season, and Mosport was a great example of turning our efforts into results," Baldwin said.  "We knew the Mustangs, with their new performance allowances, and the Kias, with their turbo power, were going to be a real challenge for us climbing the big hill on Mosport's long back straightaway, not to mention our whopping 155 lbs. of rewards weight, but we dealt with all of it."
Mosport was the second consecutive Pirelli World Challenge GTS doubleheader and third of the season, following events one race ago in Detroit and the season-opening rounds on the streets of St. Petersburg.  Mosport included one race on Saturday before the weekend's finale on Sunday.
"On Saturday's race we got a great start and made it up to second but got smoked up the hill and shuffled back to sixth by the finish," Baldwin said. "We were right about our assumptions about some of the competition having an advantage so we applied what we learned on Saturday and made some setup changes.  That let us go through the corners of North America's fastest race track even faster and it seemed to pay off on Sunday.  I love street circuits and high speed race tracks the best."
Baldwin won Round 2 at Long Beach in April and his other podium showings this season were second-place finishes at Mazda Raceway Laguna Seca in May and earlier this month in the Sunday race at Detroit.  All of those top-two performances, and most other races this season, saw Baldwin rocket off the starting line in the Hot Wheels® Cayman.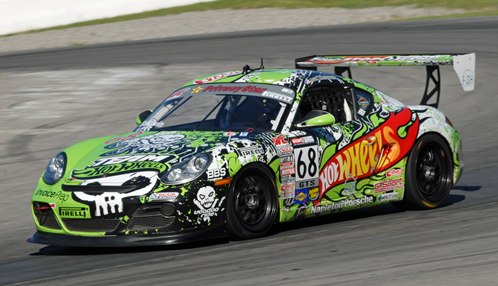 "On Sunday we got another great start and got up to second again heading into Turn 1 only to be nailed on the back straight by the second Kia," Baldwin said.  "No surprise really, but that put me in third and I just drove my heart out lap after lap. I got enough of a gap that the Mustangs just couldn't get to me and at the same time I noticed that one of the Kias was wounded so I continued to press and made an inside pass into Turn 1 with a few laps to go for a strong second place finish."
The No. 68 Hot Wheels®/GTSport Racing/Napleton Porsche Cayman S runs with major backing from InvoicePrep, Voodoo Ride and Jamestown FiSH Restaurant and exclusively on StopTech brakes.
"It was a great day and weekend for the Team Hot Wheels/InvoicePrep/Voodoo Ride Cayman S," Baldwin said. "Our StopTech brakes were the best they have been all season and the Team Hot Wheels™ crew was awesome!"
The No. 68 Team Hot Wheels™ Porsche Cayman S is based on the popular Pirelli Cayman Interseries cars with modifications to meet Pirelli World Challenge GTS specifications. The World Challenge Cayman S, like all of the cars that race in the Interseries, was built by Porsche Napleton Racing (PNR), the competition and high-performance division of leading Chicago-area dealership Napleton Porsche of Westmont.
Baldwin and Team Hot Wheels™ are in contention for the 2012 Pirelli World Challenge GTS-class championship and closed on the leaders after Sunday's runner-up placing.  Championship leader Andy Lee has 981 points, current runner-up Peter Cunningham has 970 and Baldwin closed on both with 962 points after coming into the weekend over 70 markers out of the top spot.
The Mosport race will be broadcast on NBC Sports Network Saturday, July 7, at 5 p.m. EDT. The Pirelli World Challenge takes July off and next travels to Mid-Ohio Sports Car Course, August 3 – 5.
Source: Team Hot Wheels