Team Hot Wheels™ and Jack Baldwin Win Long Beach Pirelli World Challenge in First Major North American Victory for Porsche Cayman S
Jack Baldwin moved his No. 68 Hot Wheels®/GTSport/Porsche Napleton Racing (PNR) Cayman S into the lead with a quick bob-and-weave at the race start and withstood some late race pressure from a fast-closing Justin Bell to score the GTS class victory in Sunday's Pirelli World Challenge race on the legendary Long Beach street circuit.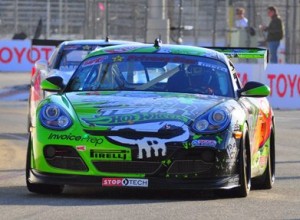 The win for Baldwin and Team Hot Wheels™ came in just the third race for the new Pirelli World Challenge program and will go into the record books as the first major North American road racing victory for the Porsche Cayman S. The win was also a first for Porsche Napleton Racing (PNR), the racing division of leading Chicago area Porsche dealer Napleton Porsche of Westmont that built and maintains the No. 68, team entrants GTSport Racing, and additional lead sponsor partners InvoicePrep and Voodoo Ride.
After qualifying second earlier in the day on Sunday, Baldwin gridded on the outside front row and immediately pounced when the green flag dropped.  Baldwin quickly darted from the right side of the track to the left, found a hole around a stalled car, and managed to edge pole-sitter Peter Cunningham and several GT-class cars into Turn 1.
"I kept thinking about the start, and not being able to practice this stuff very much, I am certainly not a standing start expert" Baldwin said. "But I started in drag racing many years ago and I was pretty good at it, so I just imagined I was drag racing, back in Florida at Tampa Dragway.  I got a great start, the car just took off, there was a stall on the left side, I found a hole, pulled the next gear, and I was passing everybody."
Baldwin opened up to a comfortable lead as the rest of the front runners were busy battling in the top five, but Bell soon emerged from the group in his Mustang and began to track the Cayman down.  What had been as much as a seven-second lead for Baldwin quickly evaporated to little over a second in the in the final laps of a caution-free race.
"The start was a huge deciding factor and so was the fact that the race was green the entire way," Baldwin said. "Justin was driving his butt off trying to catch me and I knew he was, but I also knew he had to be using a lot of his car. I was just using race management, watching him come, and I knew I needed to save something in case we had a caution, so I had enough at the end."
 
Baldwin crossed the finish line 2.323 seconds ahead of Bell, who captured both of the year's opening rounds in the Mustang last month in St. Petersburg, while Colin Braun finished third in a Kia Optima.
"All of the guys on the crew did a great job," Baldwin said. "I owe it to the guys. They gave me a car that was capable of winning, everybody did a good job, I was fortunate enough to get a good start, and things kind of went our way today."
Baldwin and Team Hot Wheels™ are best known for winning the 1992 Trans-Am Championship in the popular Hot Wheels® Camaro, but Sunday's win was the first major victory for Baldwin and Team Hot Wheels™ since winning the GTS class in the 1997 12 Hours of Sebring in the Hot Wheels® 74 Ranch Oldsmobile Aurora co-driven by George Robinson and Irv Hoerr.
For PNR, the Long Beach win came in just the team's second season of fielding national, professional racing programs, but the ingredients for success have always been there.  Napleton owns and operates the Pirelli Cayman Interseries, which has been in operation since 2009, and the PNR personnel on the GTSport/Team Hot Wheels™ program are among the best in the motorsports business.
"To score our first major win at the most famous street road race in North America is incredible and a tribute to everybody at Porsche Napleton Racing that has worked so hard to achieve this success," said PNR Principal Ron Barnaba. "We put together the right group of people with decades of experience who haven't hesitated to work around the clock to do what it takes to make this racing team a success.  This win is for them and everybody at Napleton that has worked so hard and believed in PNR from the start."
The No. 68 Team Hot Wheels™ Porsche is based on the successful Pirelli Cayman Interseries Caymans with modifications to meet Pirelli World Challenge GTS specifications.
The Pirelli World Challenge Long Beach race, which was presented by StopTech, will air on the NBC Sports Network, April 29, at 3 p.m. EDT. All World Challenge races this season are also being streamed live online at www.world-challengetv.com.
Source: PNR
Related Articles: