Steve Jobs Hid His Porsche To Fool Investor
I'm a big fan of Apple products, and so are most people in the world today. But I'm also a big fan of Porsche, and that's one thing that we have have in common.
A year has now passed since the death of Steve Jobs, the co-founder of Apple Computer and Forbes has published a handful of previously "untold stories" about the genius. Excerpts of these stories include first-hand recollections of Jobs by friends and colleagues. One particular story that I read involved Steve's Porsche 911. The story is told by software engineer Randy Adams.
Adams also told a story from 1985 when both he and Jobs each owned a Porsche 911. One day at the NeXT offices in Palo Alto, Calif., Jobs rushed to Adams and told him they had to move their cars.
"Randy, we have to hide the Porsches," Jobs reportedly told Adams. "Ross Perot is coming and thinking of investing in the company, and we don't want him to think we have a lot of money."
The Porsches were hidden behind the office so they could not be seen by Perot. The Texas businessman eventually invested $20 million in NeXT. Smart move Steve.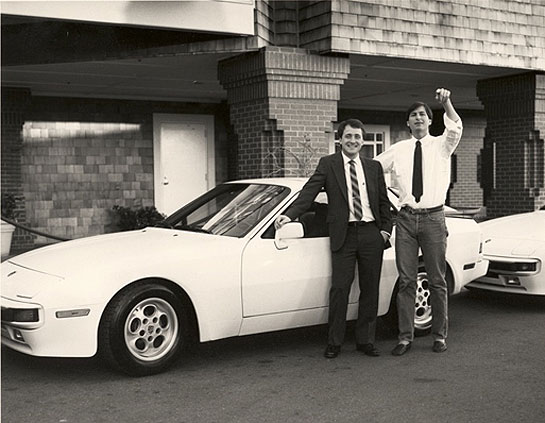 It is well know that Jobs was a Porsche enthusiast, and his ownership of different vehicles is documented. For decades Steve had driven German cars, and Porsches in particular. Apple even sponsored a Porsche 935 K3 run by Bob Garretson Enterprise whose shop was in Mountain View, California. These cars inspired him for designing his computers, as he reportedly asked for the Macintosh design to be "like a Porsche." It goes to show that Porsche design was and is still considered to best of the best.
It will be interesting to read these "Untold" stories of the genius behind the Apple brand. We've included the link below.
Source: Apple Insider.com
Photos: Technologizer.com