SpeedART Announces the Titan-EVO-XL 600
The newest innovation from the German Porsche Tuner SpeedART is the TITAN-EVO-XL 600 and it is based on the new Porsche Cayenne Turbo.
 The new wide body aerodynamic-kit for the Cayenne 958 is called Titan-EVO-XL and consists of the sporty front chin spoiler, rear diffuser and  wider fender flares including the new door planking. As a result, a bold new wide-body-design that fits optimally to the performance increased engine of the new SpeedART Cayenne.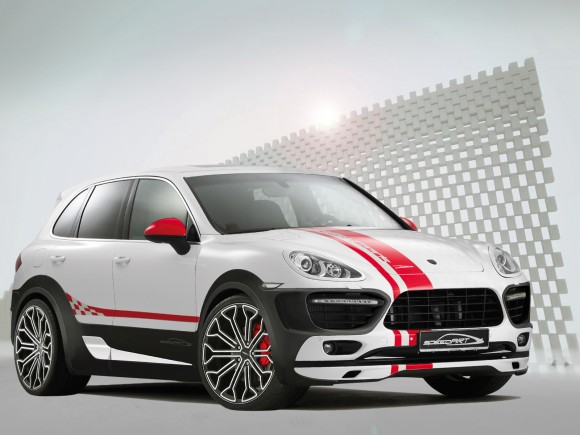 Performance:
SpeedART provides different power kits for the Turbo engine. The strongest version of the original 500 hp engine will perform 600 hp and 850 NM of torque and will consist of a motronic-update as well as a modified exhaust system. Especially for hot countries improved intercoolers are being prepared. A power upgrade for about 650 – 700 hp is also in preparation.
Sound:
A sport exhaust system (optionally with sound switch control) and 2×100 mm twin tailpipes has been developed from SpeedART for the new Cayenne. As a result the sporty sound of the V8 engine and the performance upgrade are both even more accoustically emphasised. As top of the range a sport exhaust manufactured in light weight Titian is optionally available.
Wheels:
In interaction with the more sporty driving performances we mount a SpeedART CTS-Forged 23"wheel. This forged and weight optimized single piece wheel set is available in 11×23'' with 315/25 ZR23 tires.
Suspension:
For vehicles with air suspension we offer a special electrical lowering module.
Interior:
As a highlight, SpeedART provides single carbon shell-type seats and a multi-media-unit with iPad and iPod-docking-station.
Source: SpeedArt