Simeone Museum Let's Their 917 Out To Stretch It's Legs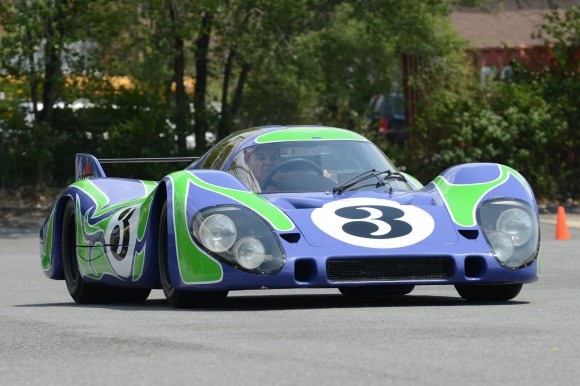 Last weekend, as part of their "Ferrari Beaters" exhibition event, the Simeone Museum in Phillidelphia, PA, gave their 917LH a chance to escape the captivity of the museum for a quick run around their back lot.
A Le Mans-centric lineup pulled from the 1950s, 1960s, and 1970s, Dr. Simeone showed pieces from the collection that are historically symbolic of Ferrari's loss. This 917 LangHeck, joined by a Ford GT40 MKIV and an Aston Martin DBR1, ran at low speed in front of a record crowd of over 500 attendees. While I was at Porsches to Ohio last weekend, a friend of mine went to Philladelphia to view this event with his own eyes. Seeing a 917 up-close and personal, is a rare experience, and to hear one run, even at just-above-idle speeds, is something altogether exciting. The demonstration of 917-004 amounted to little more than a firing of the 12 cylinder engine, and a rapid trip around the back lot. This car is 917-043, and more information on the car can be found at this
link.
 While short, it was purportedly still worth the trip. Next year, I'll have to make it out for this one.
Last year, Axis of Oversteer was in attendance when Vic Elford piloted this car, as well as a 962 around the lot for another special meeting. Read more about that event
here…
 
SEE THE VIDEO HERE:

Video found on YouTube, posted by user KevinWolv