Sideways Through a Field: A Carrera Tale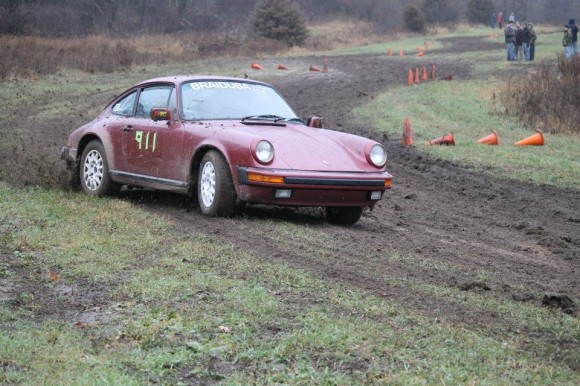 Leaving my little comfortable cubby hole in Central Ohio for a pilgrimage to South East Michigan in Mid-December is something I would normally describe as unwise.  Having grown up in the sorry state, I'm well aware of the cold and blowing snow that typically descends.  This time, though, I had very good reason.
While in college, I found myself very active in the Detroit Region SCCA Rallycross program.  After graduation, I moved to Atlanta, GA, and fell out of the SCCA, as the Atlanta region had no rallycross program.  It has been nearly four years since I last turned a competitive wheel on dirt, but when the opportunity arose to get back into it, it didn't take long for me to accept.
A friend and competitor from "the old days" and ex-pat Scot, Paul Eddleston, informed me that he had picked up an 84 Carrera 3.2 on ebay on a whim.  The car would become his winter project for a full on assault of the Detroit Region SCCA Rallycross Prepared Rear Wheel Drive class in 2013.  As the 2012 season was winding down, the car would need a shake down, and asked if I would join him for the task.  Needless to say, I did not have to be asked twice.
In order to arrive before technical inspections, I set my alarm for 3:30AM and tried to get as much sleep as I could, tossing and turning from excitement.  A carafe of coffee and a 4 hour road trip are enough to wake a guy up in the morning, but the oncoming adrenaline had me feeling truly alive.  The rural outskirts of Detroit, South Lyon to be precise, provided the backdrop for the event, and it truly is the "Pure Michigan" that I remembered.
For those of you not versed in the world of Rallycross, don't worry, it is a phenomenally fun sport that is still gaining momentum after many years.  The best way to think of it is "autocross on dirt", but it's a bit more complex than that.  This is a sport of racing against the clock, rather than competitors.  A series of pylons are laid about in a pattern to provide the course boundaries, generally with some slow technical work mixed with a bit of quick transitional sections.  For the most part, rallycross competitors will not leave second gear, but it is some of the most fun possible in low gears.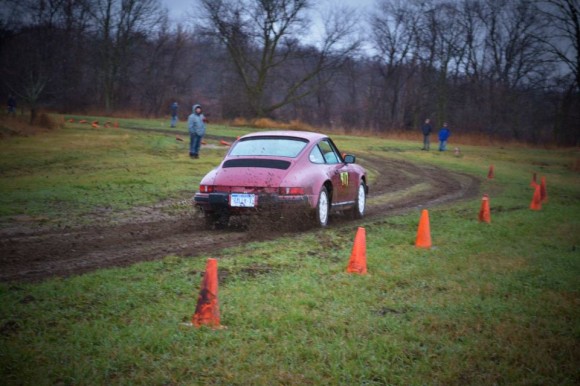 The morning of turned out to be a dreary and wet one.  The rain was not falling, but more wafting down from on high; more a mist than actual rain.  The ground, however, was fully saturated, and it was plain to see that an onslaught of cars would soon turn the first six inches of turf into muck.  As soon as we set off on our recon laps, it was evident that it would be a slow, wet, and difficult day.
Operating a standing start in 4 inches of standing mud is not an easy task, especially on street tires.  As luck would have it, our Carrera had recently been shod with a set of narrow Firestone Winterforce snow tires, mounted on beautiful brand new Braid wheels,  and the weight over the rear axle gave us the ability to ease away from a stop… after some coaxing.  It was slow going, but both Paul and I had smiles that would not retreat, and this was just the installation lap.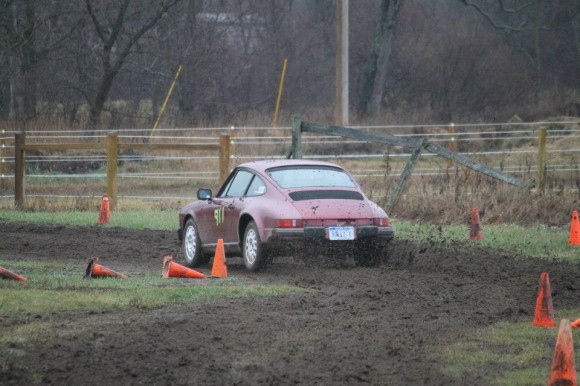 Clearly the car was prone to oversteer in these conditions, whether initiated by a dab of the brake pedal, a dip of the clutch, or a quick shove on the floor mounted loud pedal.  While wanting to step the back out, the 911 was surprisingly predictable, and could easily be brought back with some quick action on the steering wheel.  Management of weight transfer is imperative in rallycross, and doubly so in a car with about 60% of that weight in the back.  When "given the beans", the Carrera's tail happy handling enticed you to run near full sideways as much as possible.  I was using the side windows to view the oncoming sections of course, as much, or perhaps more, than I was using the wide windshield.
Paul had taken delivery of his new raspberry beauty less than two weeks prior, and had yet to drive the car more than 2 miles.  Once delivered from the sight-unseen auction victory, the Limey drove his new Teutonic trackstar about a mile and a half when a loud clang and bang came from the rear end as a torsion bar gave up the ghost.  In order to make the event, Paul sourced a set of used t-bars and clocked them for a slightly higher, more dirt-friendly ride height.  Aside from this, and the aforementioned wheels and tires, the car was completely stock, as there had been no time for further preparation.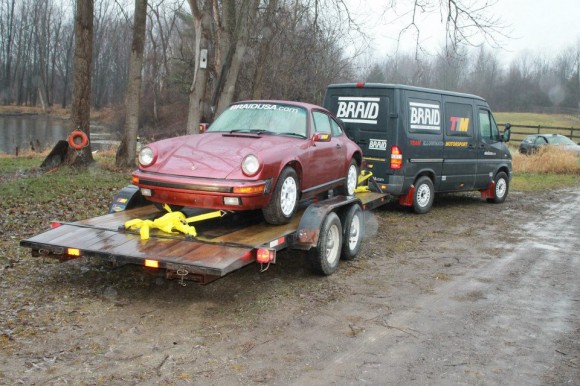 Once the car was rolled off the trailer, I drove it for the first time since the repair had been completed, puttering up to registration, and then through the tech inspection line.  Being mostly stock, the car nearly passed with flying colors.  We were required to make hasty modifications to the battery hold down, as the previous owner had installed a generic Walmart battery that was, perhaps, and inch too short to be properly retained.  Once remedied, though, we were given a clean bill of health, and allowed to compete without further question.
As I sat on the start line, I was fully aware that I was the first to really give this 911 its all, the first to really wring its neck, the first to flog it like a rented mule (essentially what it was to me…).  There was a portion of my brain focusing on the fact that if something was going to blow up, it would probably be under my watch.  The other portion of my brain was trying to bind and gag the first one, urging me to push the car harder and faster.  Luckily the second section won that argument, and I went at the course full tilt.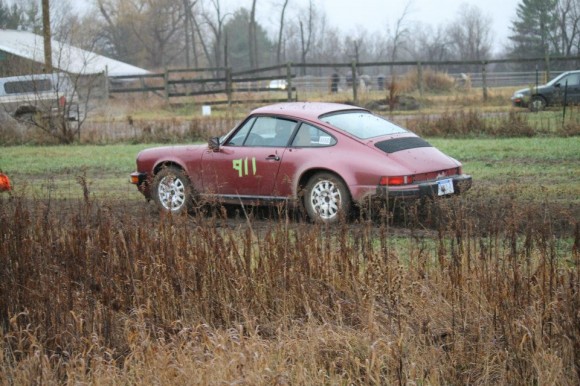 Being an outsider coming in at the end of the season, I was not there to collect points, or score a championship.  I was there to have fun, drive a bit flamboyant for the photos, and enjoy the company of friends.  With those goals in mind, I had already won.  Unfortunately, the conditions messed with the timing equipment, as the cars were not heavy enough to trip the sensor, simply pushing it further into the mud rather than compressing and sending a signal.  As such, manual timing had to be instituted, and for the first run group, at least, it wasn't quite running like clockwork.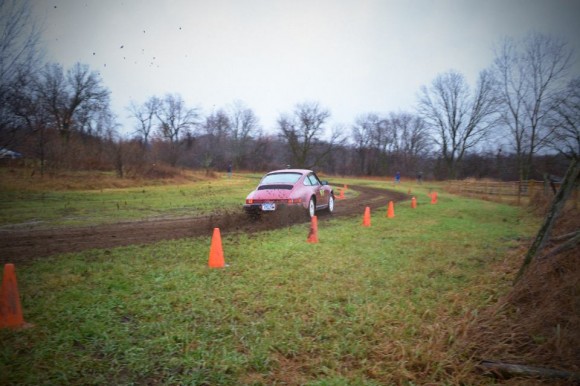 With the timing problems, and the fact that I greedily and eagerly took my turn first, when the course was at its most soupy, Paul ended up beating me to the top trophy by only a second and some change.  I'm disappointed, but only in myself.  I know that I had more to give the car, and I know the car had more to give to me.  I let it down.  Assuming Paul needs further "help" shaking the car down in the early 2013 season, I'm more than glad to help.
To their credit, everyone in attendance worked diligently with what they had, to ensure that everyone had an opportunity to get in their runs.  Everyone endured the freezing temperatures and wet socks to ensure that Paul and I would have our low traction Porsche fun and sideways dirt flinging excitement.  Even though the course is only just under a minute in length, a fully bevy of 50 entrants ensured a long day of work for all involved.  110% worth it!
A huge thank you to Paul Eddleston, Team Illuminata Motorsports, Event chair (and fellow Porsche rally driver) Jennifer Glass, and all of those involved in the Detroit Region SCCA Rallycross program who give up several Saturdays per year to make sure some crazy car folk can have fun.   I had an excellent time, and hope to attend several more events next season.
Photos: Rob Sackyta / Bradley Brownell