Sandridge Tops Cayman Interseries Friday Practice for The Mitty at Road Atlanta
Mark Sandridge and teammate Joe Varde are making their Cayman Interseries debut this weekend in their No. 49 Cayman S, which is themed after the championship-winning 1994 Team Salad Porsche 911 RSR, but that didn't stop them from setting the pace Friday in opening practice at The Mitty at Road Atlanta.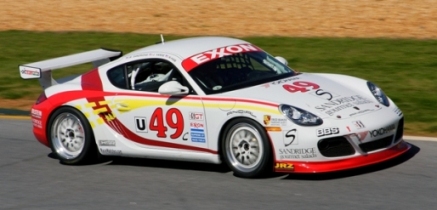 Sandridge's morning lap time of 1:35.127 on the legendary 2.540-mile Road Atlanta road course was the fastest lap by a non-professional driver in Cayman Interseries action Friday.  He was just slightly quicker than Keith Carroll in his yellow No. 55 Cayman S that runs the livery of a Sandeman/David Piper Racing Porsche 917K.
"What's fun about this that there is six of us that are all within a second of each other, so that just means there's good racing coming up tomorrow, Sandridge said. The first time I drove a Cayman was last year at Sebring and I was amazed how easy it was to drive.  It just did everything we needed it to do and it was fun to get back in a car. This car just goes everywhere you ask it to go."
Sandridge and Varde raced together in the 1990s and won two championships. The No. 49 Cayman carries the same number and livery of the GTU-class Team Salad Porsche 911 RSR the duo drove to the second championship in the 1994 IMSA North American Endurance Challenge.
"We have raced together twice and both times we came away with championships and a lot a lot of fun, Varde said. This racing lends itself to just having a good time, but still has that competitive spirit, and we race with each other against other people, like ourselves, and have a good time."
Carroll's best time was just a tick slower than Sandridge's leading top lap.
"My car is setup great, running great, driving great, Carroll said. I think there's a handful of guys that are going to be some nice competition, I am really excited about the sprint races that we get to do, and I think it is going to be a great weekend."
Reigning Cayman Interseries Champion Lee Davis ran well in afternoon practice after missing morning practice while the Porsche Napleton Racing (PNR) crew changed the clutch on his No. 33 Cayman S that carries the black and red colors of the Advan Porsche 956s and 962s and Luna C Clothing.
"I feel good,  Davis said. We have our work cut out for us, that's for sure, we have just had all kinds of problems with the car and setup and changed the clutch.  That helped that situation but we still have some setup issues.  It's just the way it works, that's racing, but it's a beautiful weekend and I think it is going to be really exciting racing.  We have some great guys out here racing, I am looking forward to a really successful weekend, and hopefully we can get it together and come out tomorrow strong."
The unofficial top five was rounded out by debuting driver Jim Thomason in his No. 44 Cayman S and Ron Rashinski in his blue and yellow No. 6 Cayman S, which pays tribute to the mighty Sunoco/Penske Racing Porsche 917-30.
Round 2 of the 2011 Cayman Interseries, the full weekend Mitty schedule next includes Saturday morning qualifying and three different races.  Sprints will be held Saturday and Sunday while the featured one-hour enduro is scheduled to go green Sunday at 12:45 p.m.
Follow the Cayman Interseries action from the Mitty all weekend long at www.CaymanInterseries.org.
Noteworthy
The majority of the Cayman Interseries competitors racing at Road Atlanta this weekend attended Friday's "Know What the Pros Know  seminar, a free and informative program that is being presented at all series races this season. The seminars are hosted by E. Paul Dickinson, Cayman Interseries Managing Director, and a special guest at Road Atlanta was champion driver and motorsports safety pioneer Jim Downing.  Downing, who is also serving as the Grand Marshal of the Mitty this weekend, shared his thoughts on variety of racing-related topics, including Road Atlanta.  
"The elevation change and the blind turns are something that just gets every new driver here, Downing said.  "Every time a driver shows up for the first time they go to the top of turn one and say'where the hell does this thing go now.  That's the neat part, the whole elevation change, all the way down to turn five and up and over.  I still go up over five and hope the guy before me didn't spin just over the cusp of the hill because I can't see him."
Another featured speaker on Friday was Dr. Robert "Bob" Hubbard, who co-founded with Downing the HANS device, which is now standard safety equipment in nearly every form of auto racing. After conceiving the idea with Downing, Hubbard designed the original HANS in the early 1980s when he was a professor of biomechanical engineering at Michigan State University (MSU). Downing wore each generation of HANS prototype for development in competition but another well-known racer was the second driver to try an early version of the unique safety device.
"The second person to ever wear a HANS device in competition was Paul Newman, Hubbard said. He went from basically a GTU car to a GTP car and he couldn't hold his head up, he had had a neck injury years ago, and his neck wasn't strong enough, he just couldn't get it strong enough because he had some nerve damage. He wore a HANS device in a GTP race at Watkins Glen and otherwise he couldn't have raced."
Cayman Interseries competitor Randy Cassling, who drives his red, yellow and black No. 18 Cayman S that carries the colors of the factory Shell Porsche 962s, has a personal appreciation for the life-saving benefits of the HANS.
"My brother likes to do off-road racing and he was in the Baja 1000, Cassling said. "He was running at night, you can't see anything in the middle of a silt field, and he went into a ravine, dropped in at 50 miles per hour, and went head first into the wall.  He lived to tell about it and in my opinion it's all because of the HANS device.  He's fine. He broke his neck, but it wasn't displaced, and he is good to go racing again."
Source: Cayman Interseries