Sandridge and Schneider Take Pirelli Cayman Interseries Endurance Cup Championship Race Wins at Atlanta Historics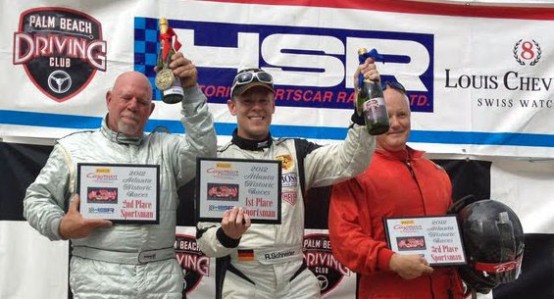 Top series competitors Mark Sandridge and Bob Schneider won races at this weekend's HSR Atlanta Historics in a competitive weekend of Pirelli Cayman Interseries Endurance Cup Championship racing at Road Atlanta, September 14 – 16.
Sandridge made it to victory lane in each of the weekend's three races and doubled up on victories with wins in Saturday's featured 75 minute enduro and Sunday's weekend-ending eight-lap sprint race. Schneider in turn moved the weekend off to a winning start with an overall victory in Saturday's opening sprint and joined Sandridge in victory lane after each race with runner-up showings in today's sprint and the enduro.
Sandridge, the weekend's only Pro division driver, moved off to a fast start in Saturday qualifying when he won the Pirelli Cayman Interseries pole in his white and red-and-yellow striped No. 49 Cayman S themed after his 1994 IMSA Champion Team Salad Porsche 911 RSR. His weekend highlight was the enduro victory late Saturday afternoon that he shared with coach and co-driver Joe Varde.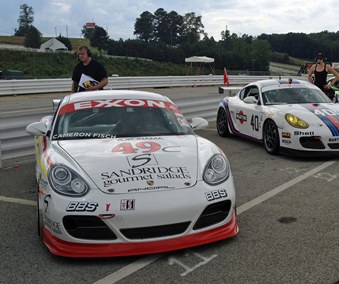 Before Sandridge swept the weekend's final two races, however, Schneider took the weekend's first checkered flag with a victory in Saturday's 10-lap sprint. It was the second time in his Pirelli Cayman Interseries career that Schneider, a Sportsman division competitor, managed to take an overall win in his white No. 40 Cayman S modeled after the famous Martini & Rossi "Baby" Porsche 935. He earned his first victory in last year's season-ending race at Daytona International Speedway and took Sportsman class honors in all three races this weekend at Road Atlanta.
Sandridge and Schneider shared the victory-lane podium with reigning Pirelli Cayman Interseries Sportsman Champion Bill Riddell in all three races. Riddell drives his RaceLink-prepared green-and-white striped No. 80 Cayman S that pays tribute to a David Piper Racing Porsche 917K and finished third overall and second in the Sportsman class in each of the weekend's trio of races.
The top-five in Sunday's sprint included the Road Atlanta-based Chris Smith Racing-prepared Caymans of Charles Harris and Tom Bloom. Harris finished fourth in the yellow No. 55 Cayman S that carries the livery of a David Piper Racing Sandeman Porsche 917K. The result capped a solid weekend for Harris in only his second Pirelli Cayman Interseries event that also included his first podium finish in Saturday's sprint with a third-place Sportsman class showing. Harris also impressed in qualifying with a top-three overall showing that was the second fastest Sportsman lap behind only class pole-winner Schneider.
Bloom turned in a great drive to finish fourth overall and third in Sportsman in the enduro. He was also fifth overall and fourth in Sportsman in both sprints in his white and red No. 16 Cayman S themed after a Dyson Racing Porsche 962.
CARS (Classic Auto Restoration Services), an automotive and race shop out of Omaha, Nebraska, also showed well at the Atlanta Historics with drivers Lori Cassling and her brother-in-law Mike Cassling. The Casslings completed the Sportsman-class top five in the enduro. Mike Cassling was fourth in his orange No. 2 Cayman S, in the colors of the famous Jagermeister Porsches, while Lori Cassling was fifth in her No. 23 Cayman modeled after the famous "Pink Pig" Porsche 917/20.
Next up for the Pirelli Cayman Interseries Endurance Cup Championship is the VIR "Gold Cup" Historic Races, October 5 – 7, at Virginia International Raceway.
Source: Pirelli Cayman Interseries