RUF Continues With Electric Mobility Development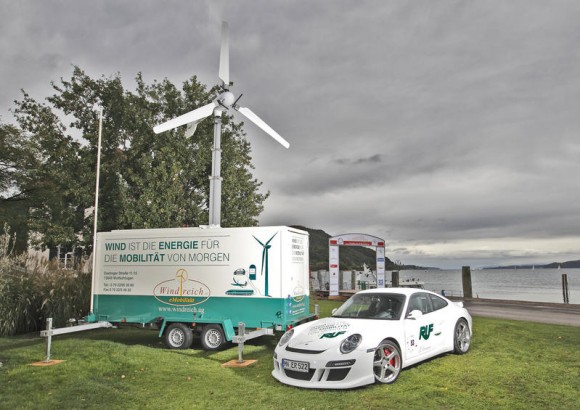 Further testing of the eRUF Electric Porsche sports car
The famous Haldenhof Revival took place in Ludwigshafen, Germany  from October 7th to the 9th.  Ruf  was there with the eRUF, representing Windreich in the racing class of this traditional hill climb, and managed to create a lot of attention among the viewers because of it's performance and achieving one of the best lap times.
Windreich displayed it's own mobile power plant to exhibit the whole chain of processes involved in electric mobility. The Windreich mobile charging station powered with wind can be raised up to ten meters, with a rotor measuring a total of four meters in diameter.
Ruf has been at the forefront of electric Porsche's. In October 2008, RUF presented it's electric automobile: the eRUF. In March 2009 presented another spectacular electric prototype at the Geneva motor show. This prototype was developed in cooperation with Siemens Corporate Technology. The power output is 270 kW (367 bhp) and offers phenomenal torque of over 900 Nm. Acceleration 0 – 100 km/h is 5 seconds, maximum speed is 250 km/h.
As RUF continues development on electric mobility, and the Infrastructure for electric vehicles takes shape, it is likely we will see an electric Porsche such as the eRUF available in the near future.  
Source: RUF