Roar Before the 24 Runs Like Clockwork for BGB Motorsports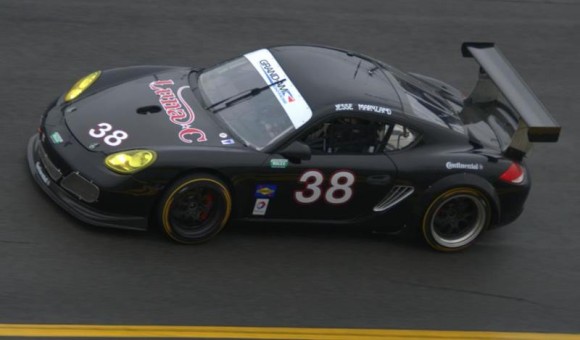 Team's Porsche Cayman GX.R and GS Porsche 997s Run Long and Fast at Roar Before the 24
It was a solid debut for BGB Motorsports last weekend at Daytona for their new 2013 Porsche programs – the no. 38 BGB Motorsports / Luna-C Clothing Porsche Cayman GX.R and a pair of Continental Tire Porsche 997s.
While the team's Porsche Cayman wasn't the fastest in GRAND-AM's new GX class, ultimate speed wasn't the primary goal. With over a decade of GRAND-AM endurance racing experience, BGB Motorsports wasn't too concerned about ultimate lap times. Still, Ryan Eversley got the Cayman around Daytona International Speedway in 1:56.492, second-quickest in the GX class and only .3 of a second behind the fastest car.
Eversley will share the car with Lee Davis, Eric Foss, Jeff Mosing, and team principal John Tecce, all who lapped without trouble in the Cayman that has been named 'Night Train' by the BGB Motorsports team.
"Our BGB / Luna-C Porsche Cayman did an awesome job at the test and the BGB guys get all the credit," said Eversley. "Not only are we on pace with our competition but our reliability was strong and we turned more laps than all the other GX cars. All the drivers were fast and didn't turn a wheel wrong. I'm looking forward to the race!"
In the adjoining garages were a familiar pair of Porsche 997s that were picking up where they left off in last season's Continental Tire Sports Car Challenge. The team that took the 2012 CTSCC's GS driver's championship would finish near the front of the timesheets as Spencer Pumpelly drove the no. 38 BGB Motorsports / CalciumPro.com Porsche 997 that he shares with Dr. Jim Norman to the fourth quickest time on the weekend at 1:57.307.
"The test was a complete success," said Pumpelly, a multi-time winner in the CTSCC as well as a multiple ALMS and Grand-Am champion. "Dr. Jim got right up to speed and we were happy with the overall performance of the car. The BGB guys were able to work on both race setup and reliability and we're in a great position to start the season."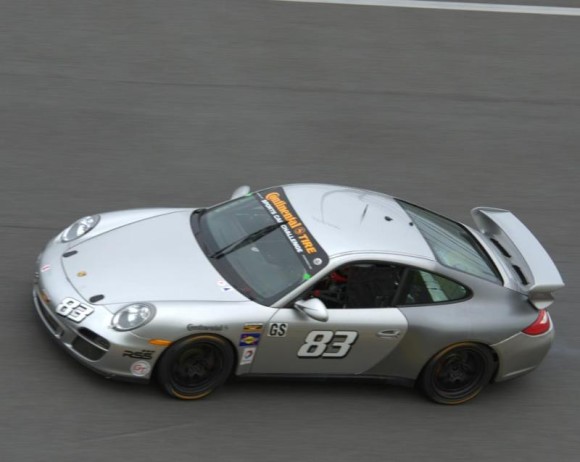 In the no. 83 BGB Motorsports Porsche 997, Kenny Wilden and the team's other doctor, Dr. Rod Randall, recorded a best time of 1:58.141 to finish 18th in the GS class for the weekend.
"The test at Daytona was great for Rod and I," said Wilden. "We were able to really connect with the crew. It's a little tough when you walk into a new team and we are all trying to figure out how to work together. I can't say enough about BGB – we were all on the same page pretty quickly. They know how to win championships, and I have won a few myself, so you find the ingredients are the same its just how you use them. I feel we are ready to compete very hard for this year's championship."
"Despite the weather on Friday, it was a pleasure to be at Daytona," added Randall. "Thankfully the weather cooperated and we got some testing in the dry. John Tecce and our entire team worked hard and very well together. I'm appreciative of their efforts and dedication. This is an extremely competitive field and we are looking forward to a close race in our BGB Porsche."
Also considering the test a success was Tecce, whose BGB Motorsports team got its first taste of Rolex Series competition.
"Our staff has put in a lot of hard work over the past few weeks and during the holidays," said Tecce. "But the payoff was a solid three day test where all three of our cars ran excellently and showed the potential to win races in the CTSCC's GS class and the Rolex Series GX class. Our GS Porsche picked up right where they left off last season and each one of our guys was up to speed right away.
"We didn't record the fastest GX lap of the weekend, and our 'home-made' Cayman lacks some mph. But we prepared and ran our car in 24 hour trim. We've already got eight solid hours of testing on the Cayman GX.R. We have run in race trim and we know what is required to stay in the hunt. We have a lot of work to do in the next two weeks but everyone is looking forward to it because they are chasing a Rolex watch!"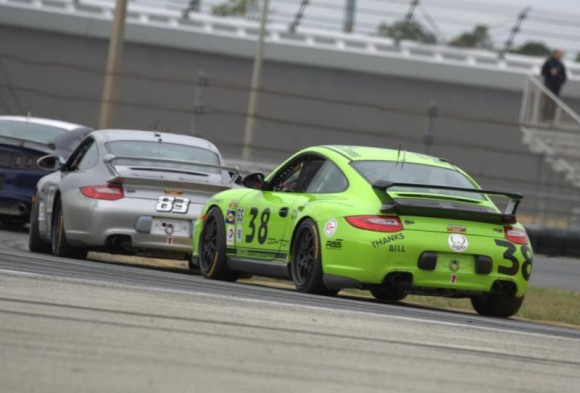 BGB Motorsport's no. 38 and 83 Porsche 997s will start their season on Friday, January 25 at Daytona International Speedway. The no. 38 BGB / Luna-C Cayman GX.R will take part in the 51st Rolex 24 at Daytona on January 26-27.
Source: BGB Motorsports