Results: American Le Mans Series, Round 5 in Mosport, Canada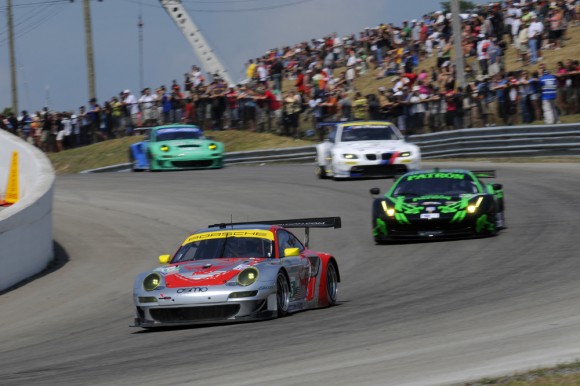 With the Porsche 911 GT3 RSR of the Falken Tire squad, Porsche works driver Wolf Henzler (Germany) and his American teammate Bryan Sellers secured the fourth place in the GT class at round five of the American Le Mans Series at the Canadian Tire Motorsport Park near Toronto. This marks their best result of the season in the race series with the world's fastest sports cars. "In qualifying we were not as fast as expected, but our race set-up worked well," said Wolf Henzler. "Our strategy was good and we could turn consistently fast lap times which is very positive. I think we've taken a large step forward today. Still, we have to work hard in order to have any real chance at achieving a podium result."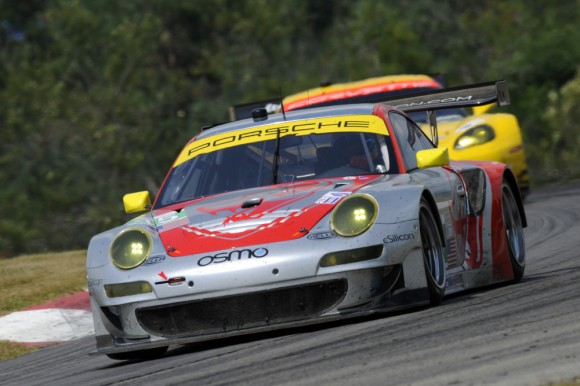 After a heart-stopping finale on the challenging, traditional 3.957 kilometre race track, known as the Mosport International Raceway, Porsche works drivers Joerg Bergmeister (Germany) and Patrick Long (USA) were the first to cross the finish line, but because of a defect air inlet system, the Flying Lizard Motorsport 911 GT3 RSR was disqualified after the race. The Lizards have filed an official protest of the decision.
Behind Wolf Henzler and Bryan Sellers, Sascha Maassen (Germany) and Bryce Miller (USA) finished fifth in Paul Miller Racing's Porsche 911 GT3 RSR. Americans Seth Neiman and Andy Lally brought the second Flying-Lizard Porsche home in sixth to round out the great weekend result of the Porsche teams.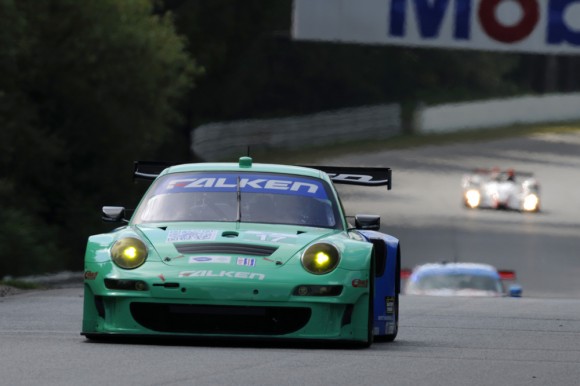 The sixth round of the American Le Mans Series is contested on 4 August on the Mid-Ohio Sports Car Course in Lexington in the US State of Ohio.
Results
GT class
1. Sharp/van Overbeek (USA/USA), Ferrari F458 Italia, 112 laps
2. Magnussen/Garcia (DK/E), Chevrolet Corvette, 112
3. Hand/D. Müller (USA/D), BMW E92 M3, 111
4. Henzler/Sellers (D/USA), Porsche 911 GT3 RSR, 111
5. Maassen/Miller (D/USA), Porsche 911 GT3 RSR, 110
6. Neiman/Lally (USA/USA), Porsche 911 GT3 RSR, 110
GTC class
1. Di Guida/Pumpelly (VEN/USA), Porsche 911 GT3 Cup, 104 laps
2. Keen/MacNeil (USA/USA)), Porsche 911 GT3 Cup, 104
3. Cunning/Vaillante (CAN/CAN), Porsche 911 GT3 Cup, 97
Points' standings
GT class
Driver
1. Jan Magnussen, Antonio Garcia, Chevrolet, 80 points
2. Joey Hand, Dirk Müller, BMW, 73
3. Oliver Gavin, Tommy Milner, Chevrolet, 72
4. Scott Sharp, Johannes van Overbeek, Ferrari, 59
5. Bill Auberlen/Jörg Müller, BMW, 40
6. Jörg Bergmeister, Patrick Long, Porsche, 39
7. Wolf Henzler, Bryan Sellers, Porsche, 35
8. Sascha Maassen, Bryce Miller, Porsche, 31
9. Seth Neiman, Porsche, 26
Manufacturer
1. Chevrolet, 94 points
2. BMW, 81
3. Ferrari, 75
4. Porsche, 59
Teams
1. Corvette Racing, Chevrolet, 94 points
2. BMW Team RLL, BMW, 76
3. Extreme Speed Motorsports, Ferrari, 61
4. Flying Lizard Motorsports, Porsche, 50
5. Team Falken Tire, Porsche, 35
6. Paul Miller Racing, Porsche, 31
Source: Porsche