Report: Boxtoberfest 2012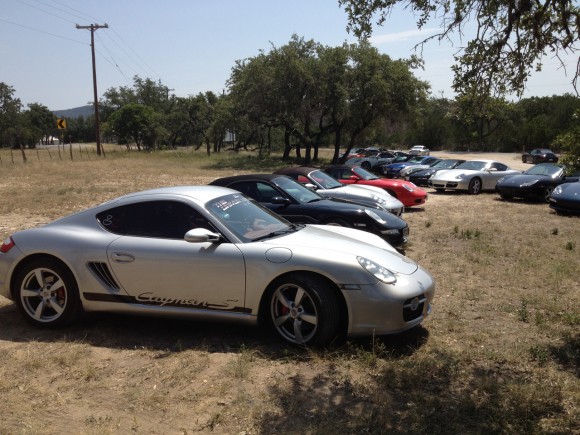 Friday it was Texas hot. The outside temperature readout on our Cayman S read anywhere between 103° and 107°. Inside the AC kept it cool, but you could feel the heat , the window hot to the touch.  But you know what they say about Texas weather – if you do not like it, just wait five minutes.
A cold front blew through Friday night and we woke to 60°, it promised to be a perfect sports car day. Starting at 8:00 AM, 125+ Porsches lined up along the tarmac at Gillespie County Airport located in Fredericksburg Texas. Its called Boxtoberfest –  but all Porsches are welcome. The lineup consisted of every flavor of 911 – from SC to 964, 993, 996, 997 and 991. There were Boxsters galore – 986, 987 and even the brand new 981. There were even a couple of 914's and a 944 Turbo mixed in too. Oh and did I mention Panamera? Yes, there were two. The only thing missing was a Cayenne, but we left ours at home…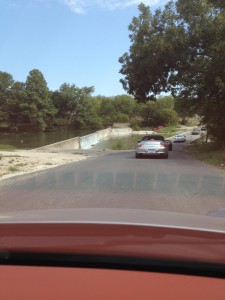 Departing from the Hanger Hotel (the official  Boxtoberfest headquarters), the cars were divided up into four tour groups of about 25 each. They headed out into the incredible Texas hill country roads. We got to run the Three Sisters (aka the Twisted Sisters) – Ranch Roads 335, 336 and 337. These are some of the best sports car roads in Texas. Narrow tracts with twists, turns, dips and great elevation changes in between man made canyons, hewn of solid granite, the perfect place to listen to that wonderful sound of the Porsche flat-six. Music to our collective ears.
At midday, the group stopped in Leakey for lunch at the Bent Rim Grill (located right on RR 337 just a half mile outside of town). Along with a much needed break and a bit of Texas BBQ there was still enough time for some bench racing to recap the first half of the tour before we collectively hit the road again. It was even more of the Sisters as we meandered back towards Fredericksburg.
Flowing along Hwy 36, the road straddles the Guadalupe River, giving us a glimpse of what a lazy summer must feel like as we passed one small resort after another. The water looked refreshing, but so did more curves as we drove out of Ingram, the last thirty miles along tiny back roads that barely register a blip (let along a thick line) on the map.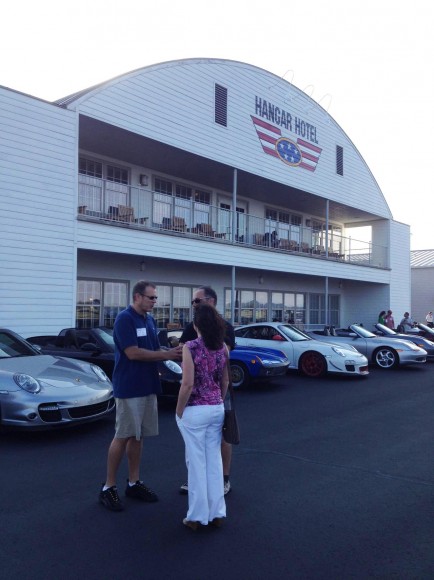 Back at the Hanger Hotel, you guessed it, more bench racing before a group dinner, a Boxtoberfest proclamation from the Mayor and the great story of Jack Griffin, a regular guy who went from helping a friend in the pits during Sebring to racing at Le Mans in less than a year. Everyone left the next day with a few more miles on their cars, but a lot of smiles on their faces. Boxtoberfest is great times in a great place. Try to make it next year, the Three Sisters are calling…
Photos: 9 Magazine / Robert Turner