Qualifying: American Le Mans Series, Round 6 at Mid-Ohio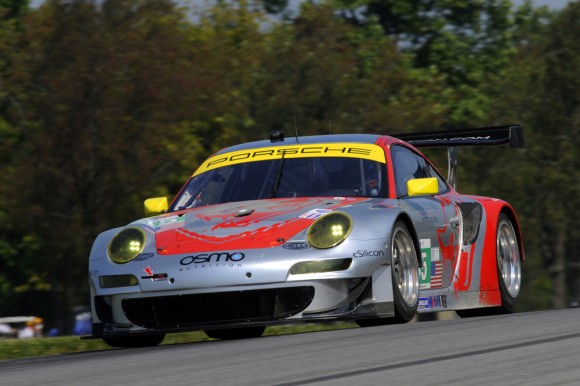 Patrick Long scores best qualifying result of the season
Posting his best qualifying result of the season, Porsche works driver Patrick Long (USA) secured a good starting position for round six of the American Le Mans Series. Sharing the cockpit of Flying Lizard Motorsports' Porsche 911 GT3 RSR with his works driver colleague Joerg Bergmeister (Germany), Long takes up Saturday's race on the Mid-Ohio Sports Car Course from third on the grid in the GT class. In an exciting qualifying session on the challenging race track close to Lexington in the US state of Ohio, Long was just a tenth of a second shy of the pole-setter.
"We've obviously found a good set-up for this classic race track," says Patrick Long. "The car is well balanced and I think I got the best I could out of the qualifying. We're only a tenth of a second off the pole-sitter's time, we're very happy with the car and it seems we may be better off with our tyres than our opponents. These are all positive signs for the race." Joerg Bergmeister added, "This track always suited our car. There are no long straights here, but instead it features many successive corners and you have no time to rest. Our car was fast on both the new and used tires."
In warm summer temperatures and high humidity, Sascha Maassen (Germany) pocketed the eighth quickest time at the wheel of Paul Miller Racing's Porsche 911 GT3 RSR and was just nine-tenths of a second slower than the front-runner. The ninth grid spot went to Bryan Sellers (USA) in the 911 fielded by Falken Tire. Sellers won the race here last year with Porsche factory pilot Wolf Henzler (Germany), and the pair team up again this weekend. In the second Flying Lizard Porsche, Seth Neiman (USA), who shares driving duties with Porsche works driver Marco Holzer (Germany), posted the twelfth quickest qualifying time.
 The race in Lexington starts on Saturday, 4 August, at 13.05 hrs local time (19.05 hrs CEST) and runs over 2 hours 45 minutes. It is broadcast live on the internet under www.americanlemans.com.

Qualifying Result
GT class
1. Jörg Müller (D), BMW E92 M3, 1:19.298 minutes
2. Guy Cosmo (USA), Ferrari F458 Italia, + 0.03 seconds
3. Patrick Long (USA), Porsche 911 GT3 RSR, + 0.15
4. Johannes van Overbeek (USA), Ferrari F458 Italia, + 0.17
5. Antonio Garcia (E), Chevrolet Corvette, + 0.24
6. Tommy Milner (USA), Chevrolet Corvette, + 0.43
8. Sascha Maassen (D), Porsche 911 GT3 RSR, + 0.91
9. Bryan Sellers (USA), Porsche 911 GT3 RSR, + 1.92
12. Seth Neiman (USA), Porsche 911 GT34 RSR, + 4.80
 
GTC class
1. Damien Faulkner (IRL), Porsche 911 GT3 Cup, 1:25.130 minutes
Source: Porsche