Production of New Panamera Already Reaches 10,000 Milestone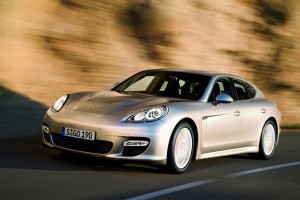 Atlanta/Stuttgart/Leipzig, December 14, 2009—Just three months after it went on sale in Europe and less than two after its debut in the U.S., the 10,000th Panamera rolled off the production line at Porsche's plant in Leipzig, Germany.
The 10,000 Panamera is a 500 HP platinum silver metallic Panamera Turbo, which is set to be delivered to a customer in Singapore.
"Sales of the Panamera have really taken off: we have already secured over 9,000 orders," said Michael Macht, Chairman of the Board of Porsche AG. Macht also pointed out that the Panamera has earned praise throughout the industry and has won several coveted awards, including Playboy's "Car of the Year", Edmunds Inside Line's "Editors Most Wanted" and Bloomberg's "Car of the Year".
In breaking down what customers are ordering, Porsche says the Panamera 4S is proving particularly popular and has a share of 44 percent, which is ahead of the Turbo (36 percent) and the Panamera S (20 percent).
The fourth Porsche model series is manufactured at the Leipzig plant, sharing a production line with the Cayenne SUV. The innovative, highly streamlined production process is seen as a model of technological and economic excellence for the automobile industry worldwide.
Source: Porsche PR, Image Courtesy Porsche