Practically Perfect Roar Before The Rolex 24 Test for Park Place Motorsports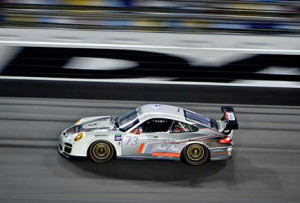 Park Place Motorsports and the Children's Tumor Foundation Racing4Research program capped a practically perfect Roar Before the Rolex 24 test weekend at Daytona International Speedway Sunday with the fastest overall GT lap in the No. 73 Park Place Motorsports/Racing4Research Porsche GT3.
Patrick Long turned the top lap of 1:48.569 (118.045 mph) in Saturday morning's practice session and joined teammates Daniel Graeff, Spencer Pumpelly, Patrick Lindsey and Jason Hart in running competitively throughout the test.  The team even made the decision to skip Sunday's final practice runs and instead focus on off-track Rolex 24 preparation.
"Everything went according to plan," Lindsey said. "The engineers are happy, which is hard to do. That means I'm happy and the other drivers are happy. Besides accomplishing everything we wanted to, we were fast. I'm just excited to be here for Park Place Motorsports and the Children's Tumor Foundation."
The Children's Tumor Foundation Racing4Research program raises funds and awareness for the fight against Neurofibromatosis (NF) through a busy and diverse racing program that is annually anchored by a Rolex 24 At Daytona effort. A highlight of each race event is the on-site presence and support of a large group of courageous youngsters and their families who have been nicknamed "NF Heroes" for their tireless efforts in fighting the disorder. Last year's Rolex 24 campaign raised over $600,000 and the goal is to exceed that amount later this month in the first CTF/R4R partnership with Park Place Motorsports.
The CTF is dedicated to improving the health and well-being of individuals and families affected by NF, a common yet under-recognized genetic disorder that causes tumors to grow on nerves throughout the body. The disorder can lead to blindness, bone abnormalities, cancer and excruciating and disabling pain.  Found in one of every 3,000 children born, NF is a more common disorder than many more widely known illnesses, including cystic fibrosis and Duchenne muscular dystrophy. Donations to CTF Racing4Research can be made directly at www.Racing4Research.org.
A co-driver in the winning 2009 Rolex 24 GT entry, Long has learned that having a fast car on the track is as important as what happens in the pits and during pre-race preparation.
"This race really is about being mistake free in the pits, on the track and being reliable," Long said. "I'm as optimistic as I've ever been."
Team principal and lead engineer John Horton was pleased with the weekend's performance.
"We showed up and unloaded quickly and I thought it was pretty good," Horton said. "Overall, it was pretty successful. Every day you learn so we just adapt to those changes. In our team there's no egos, everybody is very humble so we are constantly moving forward positively. That usually gets the best outcome."
Final preparations for the Rolex 24 will be made back at the Park Place Motorsports shop in Texas.
"The cars are completely torn down to the tub," Horton said. "All new parts, gear box, engines, suspension and shock rebuilds. We take everything out and put all new stuff on."
The No. 73 Park Place Motorsports/Racing4Research Porsche GT3 team returns to Daytona later this month for the 51st annual Rolex 24, January 24 – 27
Source: Park Place Motorsports