Potter And Stanton Narrowly Miss Podium In Thriller at Road America
The Magnus Racing crew collectively held their breath as Craig Stanton charged forward in the final ten minutes of Saturday's Rolex Sports Car Series 250 Driven by VisitFlorida.com. After having to pit for a splash of fuel while leading the race, Stanton re-entered the race in sixth position right behind a titanic battle for the lead of the GT race.
 The no.44 Magnus Racing Porsche 911 GT3 Cup had started the race with John Potter at the wheel who fell to eighth as he was out drag-raced by the Turner Motorsport BMW M3 at the drop of the green flag. Potter drove a strong opening stint but the green-flag running for him was cut short by an extended yellow flag period caused by the huge crash between Gunther Schaldach and Joe Foster in turn one.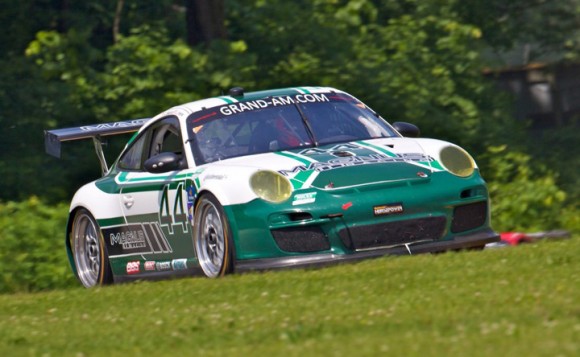 During the lengthy caution period, the team performed their mandatory driver change and put Stanton at the wheel and elected to pit again for fuel in an attempt to get the Porsche home without another stop. When the green flag finally fell again with under an hour left, Stanton was in 14th position but quickly began charging forward. Other teams began to pit early in order to get ensure they had enough fuel to make the end, but Stanton's strategy looked like it might pay off as with ten minutes left he was up to the lead. Only two laps later, however, Stanton would have to pit as the fuel light came on in the cockpit of his Porsche – setting up one of the craziest finishes in GT competition in a long time.
Re-emerging in sixth, Stanton was immediately thrust into a five-way battle for second, with the leading Camaro of Jordan Taylor a ways up the road but running out of gas. Stanton slipped into fifth with two laps remaining following a daring pass on Jonathan Bomarito's no. 70 Mazda, and then grabbed fourth on the final lap when the Camaro ran out of fuel. Exiting turn 14, Stanton had a run on the no. 67 Porsche of Spencer Pumpelly as he too ran out of fuel, but Stanton would cross the finish line 0.654 of a second behind to finish the race in fourth position.
Potter, whose second-year team is solidly in the championship battle, enjoyed watching the battle after turning the car over to Stanton. "I hope it looked as exciting on TV as it looked here in person," said Potter following the race. "It was disappointing that we didn't get the yellow we were looking for to get the win but Craig was definitely on a mission in the last ten minutes. It's a shame we fell just short of our second podium but it was a really great finish and great for our championship as we finished ahead of everyone who is ahead of us in the standings. This is a great momentum builder and I'm proud of the guys for pulling off a strong finish after things looked like they weren't going our way."
Stanton, the fittest man in motorsports, needed a moment to catch his breath after the final few laps.  "That was wild," said Stanton. "This is one of those races that you remember for a long, long time. I knew we were gambling on fuel and the car was so good, if we had gotten even a short yellow we were going to win. I couldn't believe that the guys got the fuel in the car so quickly and I could see the lead battle in front of me when we got back on track. The guys worked too hard to give up so I just put my head down and I was going to try like crazy to get back up there."
Potter and Stanton are now fourth in the GT class standings, at 144 points, 15 points behind the championship leaders after seven of the twelve Rolex Sports Car Series races.
In two weeks, Magnus Racing will be back in action at the Continental Tire Sports Car Festival Powered by Mazda at Mazda Raceway Laguna Seca in Monterey, CA on July 8-9. The race will be shown tape-delayed on SPEED Channel on Sunday, July 10, at 4:00 PM ET. Fans of Magnus Racing can follow the team throughout the weekend on Facebook (facebook.com/magnusracing) and twitter (@magnusracing).
Source: Magnus Racing