Porsches to Ohio – 2012 Event Coverage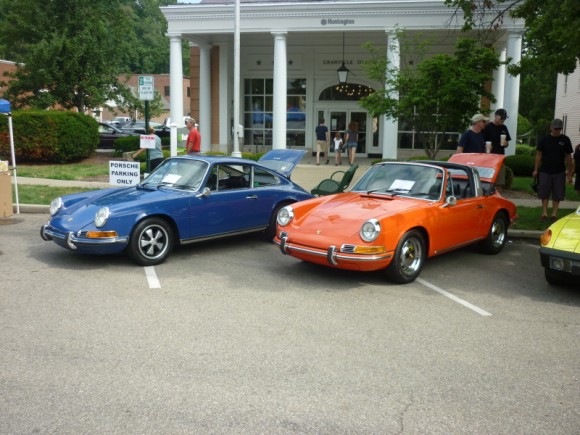 Porsches to Ohio was another phenomenally successful Porsche event in the state of Ohio.  When I moved here, I expected to never see another Porsche again, but I have been proven wrong.  This place is practically crowded with p-cars.  I couldn't be happier.  After 944 fest a couple months ago, and the upcoming "Sharks in Hell" (more here: http://forums.rennlist.com/rennforums/928-forum/705188-sharks-in-hell-august-4-2012-a.html), and P2O from this past weekend, the days are positively filled with our favorite German sporting machines.
P2O has historically been dubbed "Porsches to Oxford", as the event has been, until this year, held in Oxford, OH.  For one reason or another, the venue was moved to Granville, OH for 2012, and the name was slightly altered to read as "Porsches to Ohio".  Shakespeare once said something about a rose by any other name smelling just as sweet.  No matter what you call P2O, it is just that; SWEET!
A coworker of mine and I hopped in the 944 project for a nice long road trip. We left Medina around 7:30, and pulled into Granville right after 9:30.  We commented to each other that certain stretches of I-71 through North-Central Ohio are about as close as you can get to the autobahn without leaving the country.  Beautiful green vegetation lines the highway, and it's smooth and straight for miles at a time.  If only people followed the rules of the road as well here as they do in Germany, it would be a spot on replica.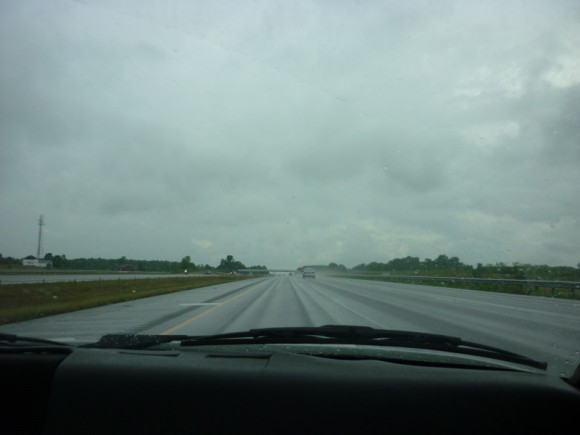 Hopping off the highway just south of Mid-Ohio sports car course, and continuing down some back roads, we took the scenic route through farm land and small outcroppings of residential.  These back roads were handled with ease, and the 944 ran like a champ the whole way down and back.  This was, by far, the farthest I had driven the car in one day, and I'm glad to see it worked through the process like an absolute champ.  The only problem we had was with the weather.  On the way back home, the sun was out, and we decided to enjoy it by pulling out the sunroof and stowing it in the hatch.  As luck would have it, we were caught in a series of 3 rainstorms over the two hour return drive.  The faster you drive, the less wet you get, so it's pretty lucky that the 944 can steadily cruise at decent speeds.
Pulling in to Granville, I half expected the scrutineers to turn their noses at my poor excuse for a Porsche.  I hadn't even bothered to wash the car, there were still a couple of oily handprints from the previous oil change, and the mesh wheels were positively coated with brake dust.  I really had intended to clean the car before the event, but things get in the way.  Regardless, they stuck my car right at the entrance, in between a pair of gorgeous 911s.  We collected our gear for the day, and left the car there to go explore the event.  It's nice to know that a Porsche is still a Porsche, even when it's a high-mileage driver like mine.
The co-worker that asked to come along is a devout Volkswagen enthusiast, and held a similar view of Porsche owners as a majority of the population does.  I invited him along to help dispel these rumors, and the event could not have delivered better on that promise if it were scripted.  We had an excellent conversation with a nice couple about their gorgeously patina'd early 365 coupe which they had owned for over 30 years.  We met the owner of a particularly attractive silver metallic 78 928 with Pasha interior, he regaled us with tales of less than satisfactory delivery condition, and the subsequent restoration that ensued.  We even managed to rub elbows with Graham Rahal, who brought out his gorgeous Carrera GT (profiled in the upcoming print issue), and his father, Bobby Rahal, who showed off his excellent 356 sunroof coupe.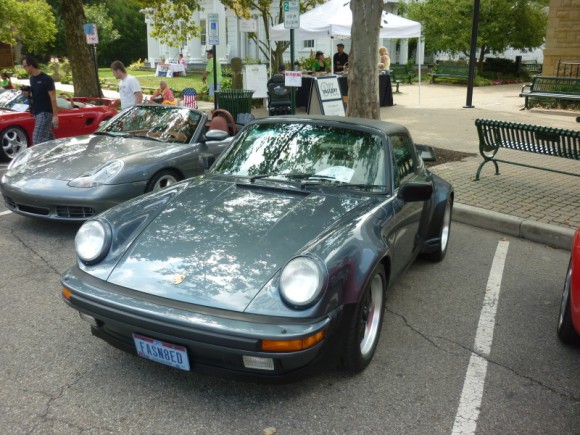 A few highlights of the show were all of the 930 variants parked around.  Rarities included a 76 Turbo Carrera in absolutely gorgeous shape, a 1988 Slant Nose Cabriolet, and a 1988 Turbo Targa.  I have never seen any of these three in person, and thanks to P2O, I was able to.  Additionally, there were many early 911s and 912s available that caught my eye.  Stoddard brought along a perfectly restored 1969 912 Soft Window Targa with an engine compartment clean enough to eat off of.  Further down the road was an equally perfect 911 Soft Window Targa in a difficult to find shade of green.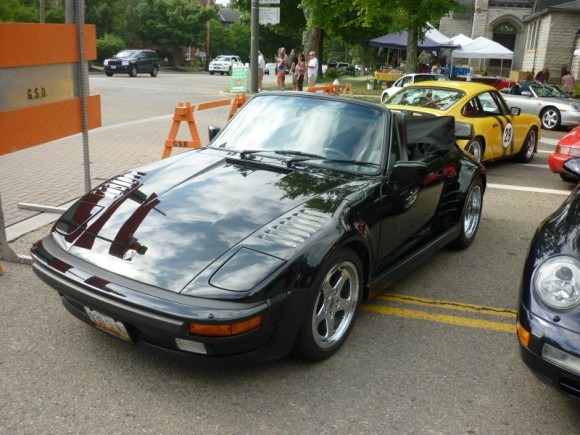 A number of vendor booths were set up along the streets, and Byers Porsche even brought out a few exciting new models straight from the dealer floor.  The town itself was absolutely alive with activity, and the shops lining the main drag were providing excellent service.  The food all looked delicious, and a used book shop held my interest for a little while.
If you have been accepting all of my recommendations as fact, your event calendars are certainly filling up for the 2013 summer.  I know my calendar is practically filled as it sits right now.  If there were more time in the day, I would just fill it up with other Porsche shows!
Photos: Brad Brownell