Porsches Lead All but One Lap in Second Straight 2009 ALMS GT2 Win; Flying Lizard Motorsports 911 GT3 RSR of Bergmeister/Long Extend Points Lead
LONG BEACH, Calif. – April 18 – The #87 Farnbacher Loles Racing Porsche 911 GT3 RSR of Wolf Henzler/Dirk Werner (both Germany), the GT2 class polesitter, and the #45 Flying Lizard Porsche 911 GT3 RSR of Patrick Long (USA) and Joerg Bergmeister (Germany) gave the huge crowd at the Long Beach Grand Prix street circuit tense bumper-to-bumper competition for the first 45 minutes of the Tequila Patron American Le Mans Series race.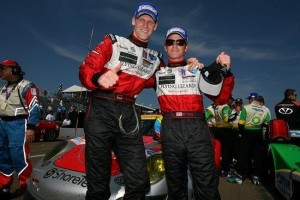 But, just as both teams were planning their mandatory mid-race pit stop, Henzler's car slowed considerably, victim of a broken right front suspension. That left Patrick Long and the Lizard Porsche in the lead, with almost a one-minute margin over the Melo/Kaffer Ferrari, which had moved into second place. After both cars pitted, and Bergmeister replaced Long in the lead car, the #45 maintained a
30-second lead until the very end, when the 100-minute race ended under a yellow flag as the GT2 Corvette Riley caught fire with five minutes to go. The Milner/Mueller BMW was third.
The #45 Flying Lizard Porsche also won the GT class for the event's Michelin Green X Challenge, which measures a combination of performance, efficiency, and fuel economy.
The race will be televised by ABC-TV on a tape-delayed basis on Sunday, April 19, at 12:30 PM EDT, with Greg Creamer and Bill Adam doing the commentary.
Fourth with its best showing in last two years was the T-Mobile VICI Racing Porsche of Richard Westbrook (England)/Johannes Stuck (Austria), which finished fourth in Stuck's first ALMS race. The #44 Flying Lizard Porsche of Seth Neiman/Darren Law (both USA) finished fifth after Law brought the car to its final position from the back of the pack. The Henzler/Werner Porsche finished tenth after their suspension problems, and the Team Falken Tires Porsche of Dominic Cicero/Bryan Sellers did not finish because of transmission woes.
Long told a crowded post-race news conference that his car was perfectly set-up for the race, and he could get right up on Henzler's tail, but could not get by him, and seemed to back off a little.
"I know people might have thought I was getting close and then backing off to entertain the crowd, but, if I followed too close for too long, I wouldn't get enough air to the radiators, and the car would have overheated," said Long.
Bergmeister, like when he took over the car at the St. Petersburg victory two weeks ago, inherited the lead, but this time there was more pressure.
"At St. Pete, we had a two lap lead, and here, we were only ahead by 30 seconds. I had to keep pushing, and we got a break that the yellow flag ended the race. A restart and more green flag racing would have produced a very close finish," said Bergmeister.
Bergmeister and Long now lead the GT2 drivers points with 60, with the Melo/Kaffer Ferrari drivers with 42 and the Farnbacher/James Panoz drivers with 42. The Seth Neiman/Darren Law Lizard Porsche duo has 34 points. Porsche holds that same 60-42 lead over Ferrari in the manufacturers points.
The next American Le Mans Series race is May 17 at Miller Motorsports Park near Salt Lake City, Utah.