Porsches, BMWs, Ferraris, Corvettes All in Top 8 in GT at Long Beach – 1.5-Seconds Apart
Long Beach, Calif. – April 15, 2011 – Ever since the BMWs and Corvettes joined the Porsche and Ferraris in the American Le Mans Series GT class two years ago, these classic sports car marques have provided the nation's road racing fans with some of the best competition ever seen at the best tracks in North America.
Today's qualifying session for tomorrow's ALMS Long Beach Grand Prix event (tomorrow, Saturday, April 16 at 7:30 PM EDT) was no exception, with the top eight GT qualifiers posting times within 1.5-seconds of each other.  Patrick Long, who was fastest in the morning practice session in his #45 Flying Lizard Motorsports Porsche 911 GT3 RSR which he shares tomorrow with Joerg Bergmeiser, earned the outside of second row (fourth place).
Long, who has won here the last two years, was pleased with his qualifying session, but not with his place on the grid.
"I had a good, clear lap and ran it to the best of my ability, and the Flying Lizard crew had the car set up perfectly.  The factors that put us behind two BMWs and a Corvette are beyond our control.  To contend for a podium tomorrow, we will have to be smart at the beginning of the race, and try to make up some time with a great typical Lizard pit stop," said Long.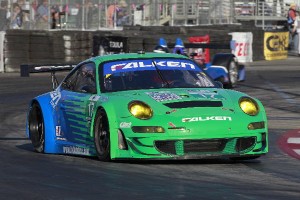 Wolf Henzler, who won this race with Bergmeister in 2008 while driving for the Lizards, put his Team Falken Tire Porsche 911 GT3 RSR that he shares with Bryan Sellers right behind Patrick in fifth place, but it was the result he was hoping for.
"Our crash during the early part of this morning's practice meant that we had to come off the track before we had a chance do run our simulated qualifying laps, so our set-up was not complete," said Henzler.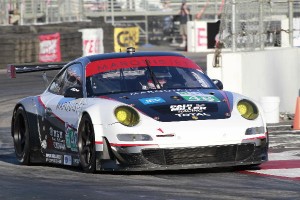 In eight-place, but just 1.556 seconds back sits the Marquis Jet Paul Miller Racing Porsche 911 GT3 RSR which was qualified by Sascha Maassen for his co-driver Bryce Miller, while Seth Neiman put the car he will co-drive with Darren Law, the second Flying Lizard Porsche, in 13th position.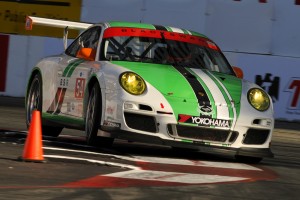 In the GT Challenge class, Jeroen Bleekemolen started his stint with Black Swan Racing just where he left off a year ago while leading the way to a class championship – putting his Porsche 911 GT3 Cup car on the pole.  Bleekemolen and team owner Tim Pappas went on the win the 2010 GTC championship.
"Our goal for this race is to be in front at all times – practice, qualifying and the race.  It is hard to overtake on this narrow street course, so we want to always be in first place.  I like street races, and the Black Swan crew set up the car just right, so we are on our way to our goal," said Bleekemolen. While Black Swan won the opening race at Sebring, only Pappas got first-place points as Bleekemolen had a prototype ride for the race.
The Battery Tender Alex Job Racing Porsche 911 GT3 Cup car with Leh Keen qualifying for his co-driver Bill Sweedler was second, while Spencer Pumpelly, who finished second at Sebring with co-driver Duncan Ende, place his TRG Porsche 911 GT3 Cup car in the third spot.
All the action will be broadcast live in HD on ESPN3.com  (www.espn3.com – accessed through your local cable provider) with the race on Saturday, April 16, from 7:15 PM – 9:40 PM (all times Eastern).  The race will be telecast on the ESPN2 TV network the next day, Sunday, April 17, from 5:00 PM – 7:00 PM.  Internationally, a growing list of ESPN affiliates (ESPN Player in Europe, ESPN 360, ESPN Play, ESPN Star Sports and others)  will carry the race – check with your local cable provider.  The Radio Le Mans broadcast will be carried by www.americanlemans.com, which also has live scoring during all on-track sessions for the weekend as well as complete qualifying and race results.
Source: Porsche Motorsports