Porsche Reports January Sales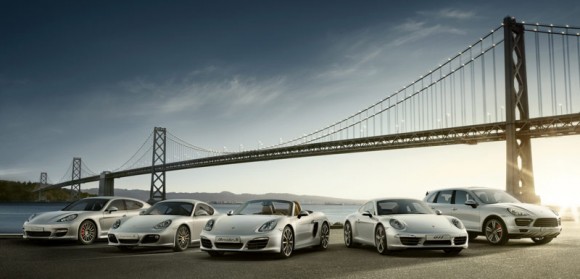 Sales Up Six Percent
Porsche Cars North America, Inc. (PCNA), importer and distributor of Porsche sports cars, Cayenne SUVs and the Panamera four-door sports sedan line-up in the United States, today announced January 2012 sales of 2,550 vehicles.  The sales compare to 2,400 vehicles sold last year – a 6 percent increase.
"We are about to launch the new seventh generation 911 on February 4th and we have a limited supply of Boxster models, which ceased production in 2011 to prepare for changeover to the new model," said President and CEO, Detlev von Platen. "For these reasons, we are extremely pleased with our January results."
When compared to the prior year, Porsche sold 681 911 models, an increase of 56 percent. Panamera sales were up 16 percent to 703, compared to the same period last year.
For the month of January 2012, Porsche's Approved Certified Pre-Owned vehicle sales were 812, compared to 650 last year – a 25 percent increase.
Model
January 2012
Current Year
Prior Year
ALL BOXSTER/CAYMAN
173
313
ALL 911
681
436
ALL CAYENNE
993
1,047
ALL PANAMERA
703
604
GRAND TOTALS
2,550
2,400
Source: PR/Newsource