Porsche Invites Football Fans to Participate in "Porsche Spotting at The Big Game"
Fans are invited to tag and share images of Porsche cars at Dallas hot spots and landmarks for a chance to star on www.facebook.com/Porsche
Porsche Cars North America, Inc., will join Pittsburgh Steelers and Green Bay Packers fans in Dallas for a weekend filled with America's favorite pastimes – sightseeing, tailgating, football – and Porsche spotting. Porsche is turning every square inch of Dallas into a playing field and everyone in town for the big showdown is invited to participate. The challenge is to help Porsche create a real-time online photo gallery using the Foursquare™ social media application and snapshots of Porsche vehicles at the Big D's best hangouts and landmarks.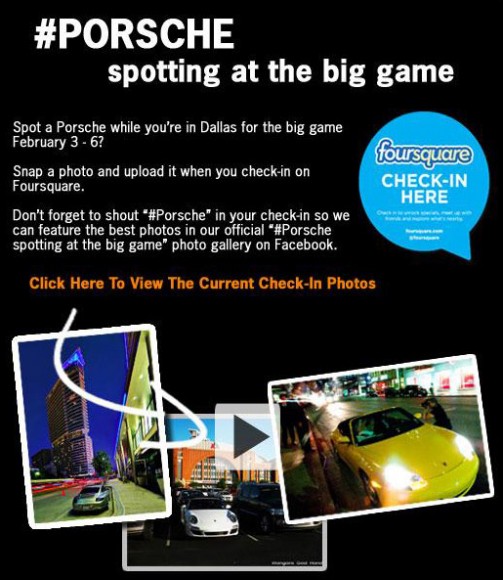 Spot a Porsche Cayenne tailgating at the Cowboys Stadium, snap a 911 parked outside the Bud Light Hotel or a catch a Cayman cruising past the NFL Experience at the Dallas Convention Center. Wherever you meet up with a Porsche, check in with Foursquare, snap a photograph from that location with the Porsche in the foreground and hashtag your 'shout' with "#Porsche." Porsche will select the top photos for inclusion in a real-time gallery hosted on the "Big Game" tab on Porsche's Facebook fan page. Photos that best capture the spirit and vibe of the big game weekend will be a featured "All Star" in the "#Porsche Spotting at the Big Game" album on Porsche's Facebook fan page, which recently surpassed the milestone of one million fans.
In addition to the "home team" Porsche cars owned by local enthusiasts, players can also capture a visiting squad of 2011 model Porsche vehicles based at the Rosewood Crescent Hotel that will be used for celebrity and VIP test-drives. Favorites like the Panamera, Porsche's roomy 'sports car for four,' and the all-new Cayenne, which combines the sport of spirited driving with the utility of five passenger seating and loads of cargo capacity, have been drafted to whisk special guests to area festivities from February 4 – 6. Designed and engineered to effortlessly maneuver through game day traffic, the cars will be checking in at big game hot spots all weekend.
Source: PCNA