Porsche Aims To Double Unit Sales by 2018
 Porsche wants to double the number of vehicles it sells by 2018, Chief Executive Matthias Muller told a Swiss paper.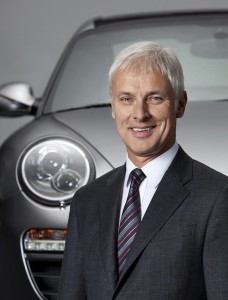 "We want to more than double our sales figures by 2018 to around 200,000 vehicles," he said in an interview published in the NZZ newspaper on Saturday. Porsche sold 60,650 cars in the first six months of 2011, a 36 percent increase on a year ago. Muller said he plans to reach his target through market growth, particularly in Asia, new models and by stepping up marketing efforts.
He forecast it should be possible to sell an extra 30,000 vehicles in Asia in the future, alongside about 25,000 Panamera models and 50,000 planned Cajun models. He also plans to increase the number of dealers worldwide to 1,000 from 700, the paper said.
Muller said on Thursday Porsche could revive the classic two-seater race car 550 Spyder, which would be cheaper than the Boxter.
 Source: Reuters
Photo: Porsche