Porsche 918 Spyder Hybrid Concept: Will it go into production?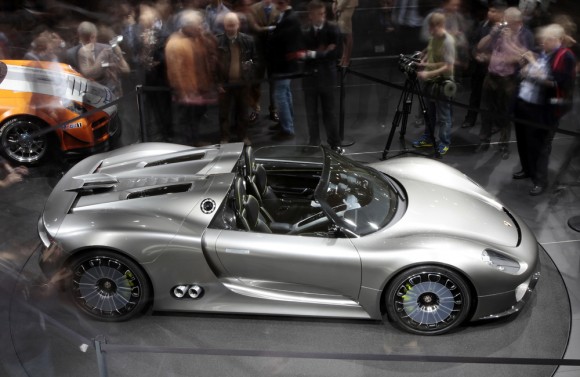 It could be expected to cost $630,000 if and when it reaches production. That would make the 718-horsepower hybrid supercar – which hits 62 mph in 3.2 seconds and gets 78 miles per gallon – Porsche's most expensive model ever – passing the $571,000 Carrera GT.
According to Bloomberg, Porsche has recorded nearly 900 potential buyers for the 918 Spyder. Wolfgang Duerheimer, development chief for Porsche, said in an interview, "We need 1,000 seriously interested people to make a sound business case." While it's still just a concept, the automaker must be seriously considering producing it. The automaker has not yet made an official statement of its intent to produce the supercar.
The body of the 918 Spyder is made of carbon fiber and lots of magnesium and aluminum are used throughout to cut weight. The 918 Spyder Concept is powered by a high-revving V-8 related to the 3.4 liter in the Porsche RS Spyder racing car. According to Porsche, the 918 Spyder's 500-horsepower V8, supplemented by two electric motors, will push it to 100kmh (62mph) in just 3.2 seconds, with a top speed of 198mph.  A button on the steering wheel allows the driver to choose among four different modes. In its most economical mode, Porsche claims that the car can achieve fuel consumption of around 79 miles per gallon, and just 70g carbon dioxide emitted per kilometer. "E-Drive" mode runs entirely on the electrical motors, with a battery range of 16 miles. "Hybrid" combines both the electric motors and the V-8 engine. "Sport" does similar to "Hybrid" mode, but with a more aggressive balance shifted towards speed, with most of the power going to the rear wheels. "Race" goes purely for performance, with the electric motors redirecting energy lost in braking back to the wheels in a "push to pass" boost.
Offering a unique combination of extremely low fuel consumption, supreme performance and long electric range, the Porsche 918 Spyder represents an essential milestone in Porsche's strategy on the way to genuine electro-mobility.
Photo Courtesy:  Porsche, AG