New Porsche Museum Already Welcomes Half a Million Visitors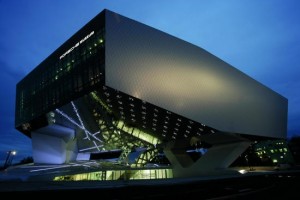 Atlanta/Stuttgart – December 18, 2009. Less than a year after it opened its doors in Stuttgart, the new award-winning Porsche Museum has set a record by welcoming its 500,000th visitor, already far exceeding its expectations for the year. The Museum welcomed the public for the first time on January 31, 2009. Reaching this magic figure before Christmas in our very first year is really a wonderful gift for the season, said Achim Stejskal, Head of the Porsche Museum.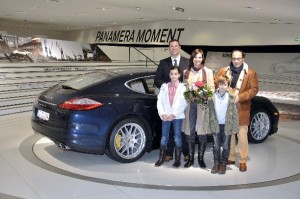 The Rosenberger family of Stuttgart won a free weekend in a Panamera for being the 500,000th visitor
Courtesy of Porsche Cars North America, Inc.
The jubilee visitors, the Rosenberger family from Stuttgart, received a great surprise gift on the occasion, a voucher for a full weekend with the newest Porsche, a four-door Panamera. The Porsche Museum is open Tuesdays to Sundays from 9:00 a.m. to 6:00 p.m. The current Panamera Moment special exhibition is continuing until February 28th .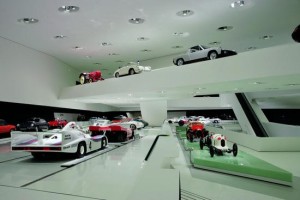 Source: Porsche Press Release
Photos: Courtesy Porsche Cars, NA