New 991 Turbo Caught On Video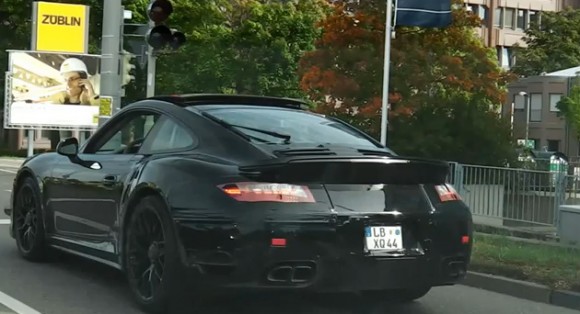 Things are buzzing around Stuttgart, and we've obtained video of the new Porsche 911 Turbo (991 Series) spotted while testing on the streets of Germany from Carspotter and 9magazine fan Toldi .
In this video you can see the wide stance of the new generation 911 Turbo and the redesigned rear bumper cover which includes openings for the dual exhaust tips. The front bumper is also new with circular lights and an angular air dam. The side air intakes are similar to previous generations and appear to sit up higher on the hips of the new model.
Overall the new 911 Turbo looks much more aggressive with a lower front end. Although still in camouflage, the new design features of the 991 Series Turbo are evident.
SEE THE VIDEO HERE:

Source: Youtube