New 911 GT3 & 911 Turbo Caught Testing With No Disguise On the Nürburgring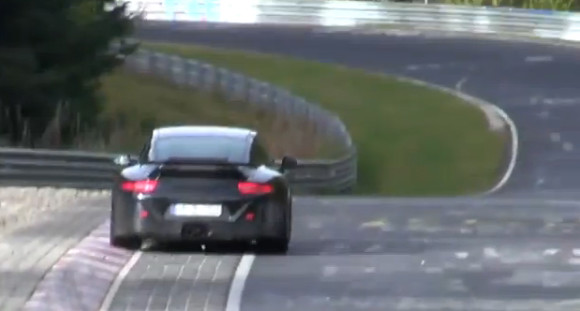 Prototype 2013 Porsche 911 GT3 + 2014 Turbo Tested Hard On the Nürburgring
The 2013 Porsche 911 GT3 and the 2014 Porsche 911 Turbo prototypes were recently caught testing on the Nürburgring. In this video we get some clear video of both new varients of the 911 as they are pushed hard around the track. Porsche engineers have not disguised the test car as in the past videos we've seen.
According to recent reports, the new 2014 911 Turbo will feature a tri-turbo 3.8-liter configuration, which should put out around 550 hp. Having a three smaller turbos means no turbo lag. It has also been reported that the new 911 Turbo will be offered with a four-wheel steering system that will work in conjunction with the car's all-wheel drive system.
Due sometime later this year, the next 911 GT3 is expected to follow a familiar formula of weight savings from its 991 Carrera brethren. Performance will also be pushed higher thanks to the weight reduction and improved efficiencies inside the 3.8-liter flat six that's likely to power it. It is still unclear if the new 911 GT3 will come standard with PDK transmission or manual transmission but if you listen closely to the sound of the video, our guess is the GT3 Prototype in the video features the PDK.
Source: Youtube