Napleton Racing Enters Winning Porsche Cayman S Team in New GX Class For Rolex 24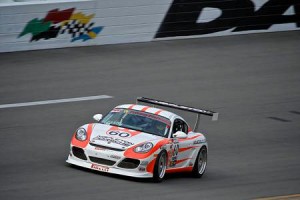 Napleton Racing, a fulltime sports car racing team based out of leading Chicago-area dealership Napleton Porsche of Westmont, will make its Rolex 24 At Daytona debut with the team's winning Porsche Cayman S in next month's 51st running of the day-long endurance race on the 3.56-mile road course at Daytona International Speedway.
Napleton Racing earned a pair of GTS-class victories and numerous podium finishes with two different Caymans this year in Pirelli World Challenge competition and will enter one of those cars in the Rolex 24 in the new GRAND-AM Rolex Sports Car Series GX division. The Napleton team is currently updating to GX specifications its Cayman S that was victorious in its first weekend of Pirelli World Challenge competition at Mid-Ohio Sports Car Course this past August. The Napleton Cayman S won Sunday's final race of the Mid-Ohio weekend's doubleheader after earning a third-place finish the previous day in the debut race for both the car and driver Kevin Gleason.
In addition to Napleton Racing, Napleton Porsche of Westmont also owns and operates the Pirelli Cayman Interseries Endurance Cup Championship that completed its third full season of competition last month at Daytona.
"We have seen some success on track with our Caymans and the challenge of a 24 hour race is definitely intriguing," said Ed Napleton, Owner of the Ed Napleton Automotive Group, and an Interseries driver. "Racing is still relatively new to me but I have heard about the unique nature and daunting challenge of 24 hour races right from the beginning. It is going to be a fun adventure."
Napleton will not drive in the Rolex 24 but will join Napleton Porsche of Westmont General Manager Ron Barnaba as a team principal in the new effort. Barnaba is also the founder of the Pirelli Cayman Interseries.
"I have been going to the Rolex 24 At Daytona as long as I can remember and the new GX class has given us the opportunity to enter this race for the first time," Barnaba said. "While this will be our debut, the winning experience we gained this year in Pirelli World Challenge, and in previous seasons in ALMS and IMSA GT3 Cup competition, will be put to good use. The Cayman S is a good fit for the new GX class and our team is up to the challenge."
Veteran sports car racing talent Shane Lewishas been signed as the team's lead driver. Additional team developments and the complete driver lineup will be announced in the coming weeks.
"I have had the pleasure of racing a Napleton-prepared Cayman S in the Interseries as well as coaching and teaching some of their new drivers in the series," Lewis said. "They are first class people with a first class product. I am truly looking forward to being a lead driver in their Rolex 24 debut and helping the team get to the top step of the podium. There are some very serious competitors coming to the new GX class at Daytona, both manufacturer and team efforts, but I believe the Cayman platform combined with the knowledge and passion of the Napleton organization, will give us a real shot at winning."
In addition to the Mid-Ohio Pirelli World Challenge success, Napleton Racing also built and at the time maintained the No. 68 Team Hot Wheels™ Cayman S that Jack Baldwin drove to the Pirelli World Challenge GTS victory in April at Long Beach. The Napleton/ Hot Wheels® combination also produced several other podium finishes and Baldwin and the No. 68 went on to finish third in this year's GTS season championship.
Source: Porsche Napleton