Napleton Racing Announces Porsche Cayman S Driver Lineup for 2013 Rolex 24 At Daytona Debut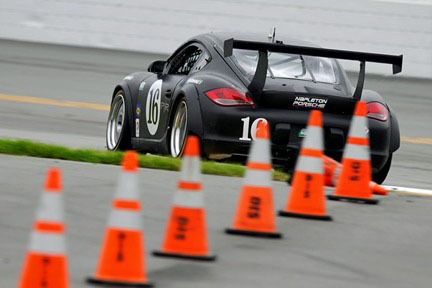 Napleton Racing announced Friday the complete driver lineup for its Rolex 24 At Daytona debut, January 24 – 27, where former overall race winner David Donohue, Dr. Jim Norman and Nelson Canache will join previously announced driver Shane Lewis at the wheel of the GX-class No. 16 Napleton Racing Porsche Cayman S.
The debuting Rolex 24 team topped the GX time sheets in Friday's opening day of the Roar Before the Rolex 24 At Daytona test, clocking in with a class-leading lap of 1:57.466 (109.104 mph) in the No. 16 Cayman S.
Donohue was part of the Brumos Porsche Daytona Prototype overall Rolex 24 winning team in 2009 and became available in the off season to join Napleton Racing, a fulltime sports car racing team based out of leading Chicago-area dealership Napleton Porsche of Westmont. Donohue sees similarities between the Florida-based Brumos organization and Napleton's winning competition division.
"I wanted a place where we can exercise our craft, have some success and could really enjoy the company and grow together as team," Donohue said. "I did one race for Napleton at Monterey in a Cayman during the most recent Rennsport Reunion and I had the most fun driving there in probably a decade. It was just a hoot to drive the car."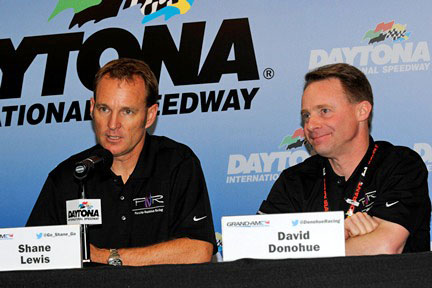 Napleton Porsche General Manager Ron Barnaba previously worked at Brumos Porsche and Mike Colucci, Team Manager of the No. 16 Napleton Racing Porsche Cayman S, managed in the past the successful Brumos Racing operations.
"The Napleton guys have been pulling all-nighters for a long time leading up to this race," Donohue said. "The guys really haven't had a break, and it's not just because they are poking around at home. They are working long hours and at times couldn't even get what they need to finish the car. It has really been an uphill battle for them in Napleton to get the car ready in time and I have been impressed by the effort."
Lewis, who was the first driver named to the Napleton entry late last year, is ready to leave the holiday season behind and get back on the track.
"I can't wait to get back to Daytona every year and I don't really want to do anything else," Lewis said. "I feel extremely fortunate and blessed to be here with this group of drivers and with Napleton."
Canache and Norman reunite as teammates for this year's Rolex 24 after being part of the driver lineup at APR Motorsport in an Audi for last year's day-long Daytona race.
"I'm really pleased to be back in a Porsche," Norman said. "I'm really happy this year to be with David and Shane, and Nelson was in the Audi with me last year so I've done one race with him. Overall, the team chemistry and their enthusiasm with a new class and new car and a great lineup is really, really exciting."
Canache, a Venezuelan native, returns to the GRAND-AM Rolex Sports Car Series after spending part of last year competing in ARCA stock cars.
"I enjoy driving the Porsche so much and when I got in touch with Napleton they gave me the opportunity to join the team," Canache said. "I'm so happy to be here and look forward to good results. We have a strong lineup and we have a lot of work to do on the car, but I think and feel we have a good shot at winning."
Team preparations for the day-long Daytona race started Friday with the annual Roar Before the Rolex 24 Test Days on the road course at Daytona International Speedway. Roar testing continues Saturday and Sunday.
Napleton Racing earned a pair of GTS-class victories and numerous podium finishes with two different Caymans this year in Pirelli World Challenge competition. The team updated to GX specifications its Cayman S that was victorious in its first weekend of Pirelli World Challenge competition at Mid-Ohio Sports Car Course this past August. The Napleton Cayman S won Sunday's final race of the Mid-Ohio weekend's doubleheader after earning a third-place finish one day earlier in the debut race for both the car and driver Kevin Gleason.
In addition to the Mid-Ohio Pirelli World Challenge success, Napleton Racing also built and at the time maintained the No. 68 Team Hot Wheels™ Cayman S that Jack Baldwin drove to the Pirelli World Challenge GTS victory in April at Long Beach. The Napleton/ Hot Wheels® combination also produced several other podium finishes and Baldwin and the No. 68 went on to finish third in this year's GTS season championship.
Napleton Porsche of Westmont also owns and operates the Pirelli Cayman Interseries Endurance Cup Championship that completed its third full season of competition last month at Daytona.
Source: Napleton Racing